With all our servicemen and servicewomen do to protect our lives and our freedom, there's really no way we can ever pay them back.
But here at Muth & Co. Roofing, we like to do what we can to show our respect and appreciation for our courageous veterans. We do this by supporting programs that help make their lives a little easier.
One such program is the Roofs for Troops Rebate, instituted by U.S.-based GAF Roofing.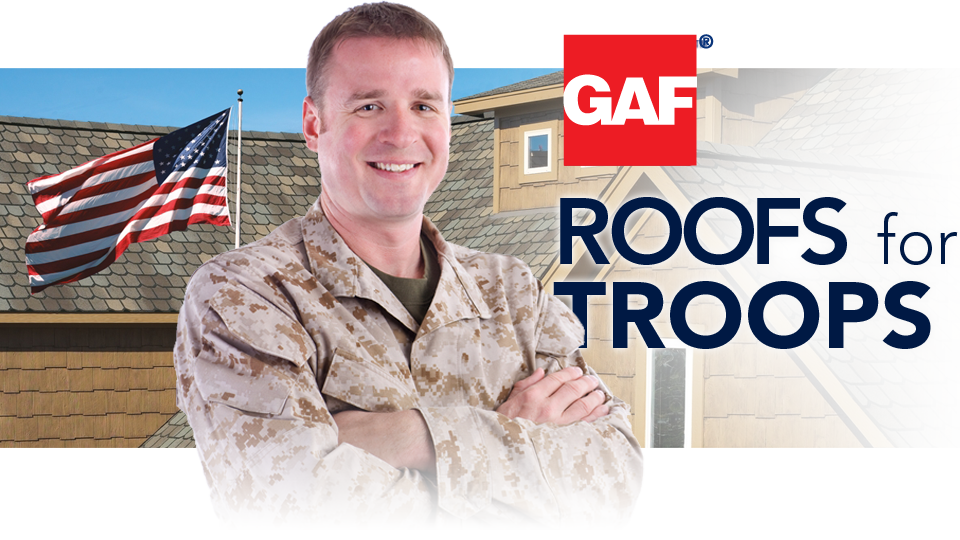 How Roofs For Troops Works
In order to show their gratitude for the many sacrifices the members of our military make for us every day, GAF continues the Roofs For Troops rebate program. This special offer is available only to active members of the U.S. military, as well as military veterans and retirees.
It entitles them to a $250 rebate on a GAF Lifetime Roofing System. Installation must take place between now and December 31, 2023 (after purchase and mail-in rebate). To qualify, you will contract a GAF Master Elite™ or Certified Contractor, like Muth & Co. Roofing. A GAF roofing system is comprised of GAF Lifetime Shingles and a minimum of three qualifying GAF accessories.
And when you qualify for the GAF Roof For Troops rebate, Muth & Co. Roofing matches it on the spot!
Which GAF Accessories Qualify?
Here's how to become eligible for the GAF Roofs For Troops rebate. Homeowners must purchase at least three of the following accessories, in addition to GAF Lifetime shingles:
Roof Deck Protection
Starter Strip Shingles
Cobra® Attic Ventilation
Ridge Cap Shingles
Leak Barriers
How to Apply for Roofs For Troops
Applying for the Roofs For Troops rebate is as easy as completing an online rebate claim form, which we'll do for you! When finished, all we need from you is proof of military service.
GAF then sends you a Visa debit card for $250.00, which you'll typically see in 6-8 weeks.
A Legacy of Service
The Muth family is proud of friends and family members that have served in the military. And have always been supportive of our military over the years. Many soldiers have a hard time easing back into civilian life and finding a job. This is where another program for vets comes in: Hiring Our Heroes, which helps put soldiers back in the workforce.
Each year, we solidify our commitment by participating in the US Chamber of Commerce Foundation Hiring Our Heroes program. Hiring Our Heroes is a nationwide initiative. This initiative helps veterans, transitioning service members, and military spouses find meaningful employment opportunities.
Our goal is to find potential employees with valuable skills, qualities, and a strong work ethic for the Muth team.
To find out more details about the Roofs for Troops program, visit GAF Roofs For Troops or give Muth & Co. Roofing a call at (614) 882-0900.
Muth & Company Roofing is a certified Master Elite Contractor through GAF servicing Columbus, Ohio and the surrounding area including Westerville, Delaware, Worthington, Dublin, Bexley, Gahanna, New Albany, and nearby communities. Muth & Company provides roofing installation services, as well as gutter installation, gutter replacement, gutter repair, attic insulation, skylight installation, and roof repair. We're proud to offer metal roofing installation and metal roof financing services.
We use quality, feature-rich products including GAF American Harvest Shingles as well as the full GAF roofing system to deliver superior protection and warranties. If you're in need of an experienced, trusted roofing or gutter company in the Columbus, Ohio region, don't hesitate to call Muth & Company for a free estimate at (614) 682-3060 today!