There is no stopping a weather disturbance. Unless a miracle happens, not even a self-proclaimed sorcerer can put an end to this natural occurrence. The good news is, mother nature's path and intensity can already be predicted thanks to modern technology combined with extensive research.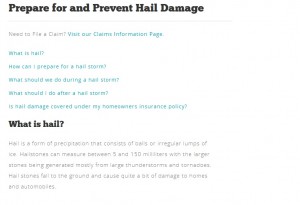 This is why warnings nowadays are made ahead of a storm's landing, and this is also why hailstorm destruction can be contained. It's a fact that hailstorms can cause major home damages, but understanding or knowing more about its effect can help you work with the right contractors and make the necessary preparations before it finally hits.
Know that when a hailstorm strikes, roofs usually bear the brunt. Though cosmetic damage is common, hail can also degrade or crack shingles and cause dents, especially in metal roofing. Gutters and downspout dings, as well as water damage, can also occur. To prevent these home mishaps, Homeinsurance.com advises that roofs should be examined by reputable Gahanna, Ohio roof repair companies, like Muth & co. Roofing, ahead for safety purposes:
At the very least, make sure your roof is in good shape. If you live in an area
prone to hail and associated damage, you might want to consider upgrading your
roofing material to an impact resistant material that meets local building code
standards and requires minimal upkeep and maintenance.
A good example would be using Class 4 roofing materials because they are known to resist roof damage. After the hailstorm, it's also important to take the necessary measures to prevent damages from escalating:
Assess the damage to your property. It is typically a good idea after a major hail
storm to have a licensed professional check your roof for damage. Also be sure to
check your car for dents or broken glass. Report any damage immediately to your home
insurance and /or car insurance agent.
At this point you need a trusted Gahanna or Dublin, Ohio roof repair professional, like Muth & Co. Roofing, to determine if your entire roofing system needs to be replaced. The recommendation will of course depend on the extent of the damage, among others.
Hailstorms should not be taken lightly. Not only can they be a threat to your home, but they can also damage your other properties and pose a danger to your safety. Take the necessary steps today and give your home the protection it needs.
(Article Excerpt and Image from Prepare for and Prevent Hail Damage, HomeInsurance.com)