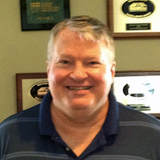 John Dale is the newest face around the Muth & Company office. He's a Michigan boy who has lived in Westerville since 2001, and still proudly cheers on the Wolverines. "If I keep hiring Blue fans, we won't be outnumbered for long," jokes Chad Muth, president of Muth & Company. "John loves to learn and shares the same philosophies as our team. He believes the customer should be educated, not preached to or sold. I love his attitude and energy."
John has worked as a Sales Consultant for the past three months, educating customers about their home improvement options and ensuring their satisfaction with their project. He believes the strengths he brings to his position are enthusiasm, optimism, analytical skills, good communication, a sense of humor … and humility (grins). He feels Muth & Company stands apart from other roofing contractors in Columbus, Ohio, because it's a family-owned business with team members who are committed to professionalism. "Chad sets the tone for excellence in everything we do," says John.
John and his wife, Jessica, have been married for 24 years. He has a 32-year-old son, David, from a prior marriage. John enjoys playing golf, reading, amateur drama and serving in the community. "I'm the assistant camp director at Royal Family KIDS, a one-week residential summer camp for children in foster care," he explains. Royal Family KIDS Camp of Franklin County serves local foster children, ages 6-12, and offers a full week of positive memories for children who harbor painful memories of abuse or neglect.
John's favorite place to dine out is Outback Steakhouse. He and Jessica regularly record several TV shows and watch them as time allows. "I like NCIS, CSI, NCIS LA, Survivor, Bones, Elementary and Law & Order," he says. If he could go anywhere for a day, he would head to North Carolina to visit his son, David.
Over the long term, John's life goal is "to live well and finish strong." But he also doesn't mind taking time to enjoy the little things. If he could give others one piece of advice about life, it would be this: "Life is uncertain; eat dessert first."
Thanks, John, for your positive attitude! Welcome to the Muth family!
Muth & Company Roofing is a certified Master Elite Contractor through GAF servicing Columbus, Ohio and the surrounding area including Westerville, Delaware, Worthington, Dublin, Bexley, Gahanna, New Albany, and nearby communities. Muth & Company provides roofing installation services, as well as gutter installation, gutter replacement, gutter repair, attic insulation, skylight installation, and roof repair. We're proud to offer metal roofing installation and metal roof financing services.
We use quality, feature-rich products including GAF American Harvest Shingles as well as the full GAF roofing system to deliver superior protection and warranties. If you're in need of an experienced, trusted roofing or gutter company in the Columbus, Ohio region, don't hesitate to call Muth & Company for a free estimate at (614) 682-3060 today!