Lisa Trott joined the Muth family in May 2015 as administrative assistant. Her job responsibilities include data entry, scheduling and general office duties. "My greatest strength is my loyalty," says Lisa. She enjoys being a part of the family at Muth & Company, and feels the company is set apart from other roofing companies in Columbus, Ohio, by the integrity and honesty of its team members.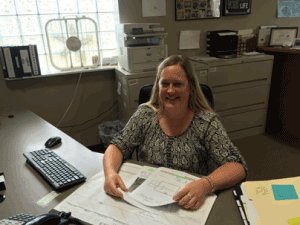 "Lisa is a pleasure to have in the office," says Chad Muth, president of Muth & Company Roofing. "She has a great attitude. She not only handles the customers appropriately, but she can also stand her ground with a sometimes rambunctious group of installers and workers."
Lisa is a Columbus native who attended Westland High School and Ohio Dominican University. She has three daughters that she describes as her proudest accomplishment. Their family of four is rounded out by a dog named Cocoa.
Lisa's hobbies include sports, family and friends. Her favorite sports team is The Ohio State Buckeyes, and her favorite places to dine out are P.F. Chang's and The Cheesecake Factory. Her favorite TV shows are Grey's Anatomy and Fixer-Upper. If she could go anywhere for a day, Lisa would head to the Gulf Coast to soak up the sun and waves all day!
Lisa says her long-term life goal is "to leave this world a better place than I found it." When asked what one piece of advice she would give others about life, she quotes Dr. Seuss: "Those that mind don't matter, and those that matter don't mind."
Thanks, Lisa, for being an important part of the Muth & Company team!
Muth & Company Roofing is a certified Master Elite Contractor through GAF servicing Columbus, Ohio and the surrounding area including Westerville, Delaware, Worthington, Dublin, Bexley, Gahanna, New Albany, and nearby communities. Muth & Company provides roofing installation services, as well as gutter installation, gutter replacement, gutter repair, attic insulation, skylight installation, and roof repair. We're proud to offer metal roofing installation and metal roof financing services.
We use quality, feature-rich products including GAF American Harvest Shingles as well as the full GAF roofing system to deliver superior protection and warranties. If you're in need of an experienced, trusted roofing or gutter company in the Columbus, Ohio region, don't hesitate to call Muth & Company for a free estimate at (614) 682-3060 today!