Apart from the tradition of spring cleaning, the entrance of warmer weather is also a signal for a lot of home repairs across the United States. Now that the climate is finally looking nicer, roofing contractors in Columbus, Ohio weigh in on a major hiccup homeowners face every season transition: damaged roof shingles.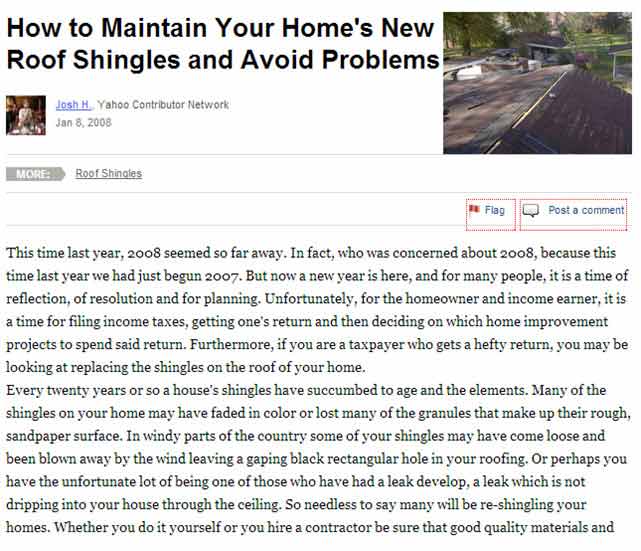 As a metro Columbus roofer, we want you to know there are certain types of shingle problems you should be aware of. The most common issue is the loosening of shingles, as this makes your roof more prone to wind damage and moisture. Snow may be gone, but rains are still an issue, so make sure you address this. Cracks are a problem too, as brittle components expose the weakness of your gable.
Age and moisture can buckle roof shingles, which opens your roof to the possibility of wind and even more moisture entering the house. When this happens, you run the risk of costlier fixes over time. Another age-related problem with shingles is curling, which would call for gluing the portion down with a sealant. If there are broken shingles, you have to replace them.
An article from Yahoo! Voices emphasizes the importance of maintenance in roofs:
Of course maintenance plays greatly into the longevity of your new roof. For the most part shingles require no maintenance but there are certain circumstances under which you will need to take some extra steps and precautions to guarantee that the next twenty years of living under your new roof are trouble-free.
The article also elaborates on the most important aspect of roofs:
As with anything the key to keeping your roof lasting as long as it possibly can is to roof it right to begin with. Make sure you use good quality products and/or a reputable roofing company.
Now that it's time for transitioning from season to season and maintaining your home, keep these things in mind so that you would always have one sturdy roof above your head.
Ask us about our annual Care & Maintenance plan. Click here for more details.
(Article excerpt from How to Maintain Your Home's New Roof Shingles and Avoid Problems, voices.yahoo.com)
Muth & Company Roofing is a certified Master Elite Contractor through GAF servicing Columbus, Ohio and the surrounding area including Westerville, Delaware, Worthington, Dublin, Bexley, Gahanna, New Albany, and nearby communities. Muth & Company provides roofing installation services, as well as gutter installation, gutter replacement, gutter repair, attic insulation, skylight installation, and roof repair. We're proud to offer metal roofing installation and metal roof financing services.
We use quality, feature-rich products including GAF American Harvest Shingles as well as the full GAF roofing system to deliver superior protection and warranties. If you're in need of an experienced, trusted roofing or gutter company in the Columbus, Ohio region, don't hesitate to call Muth & Company for a free estimate at (614) 682-3060 today!