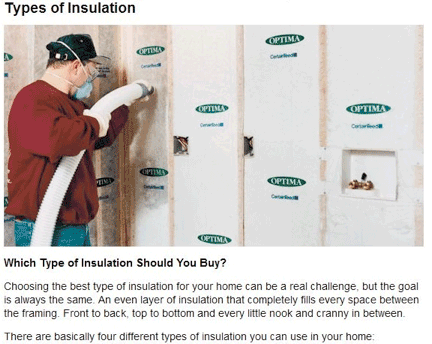 It's not just your HVAC system that will be keeping you and your family warm this winter; your home will be getting plenty of help from the insulation behind your walls and roof too. Before you replenish any old stocks of insulation, however, it may help to be aware of the different kinds available for homes like yours. An article on HowtoHomeInsulation.com educates readers on the types of insulation that Columbus roofing contractors can install for you.
Blankets of Insulation – Fiberglass and Rockwool – R-3+ per inch
This is the most common type of insulation available in the large home improvement stores. This cotton candy like insulation earns its R-value by trapping air in between tiny fibers. These tiny air pockets slow down heat as it tries to pass through the insulation. Compressing the insulation squeezes out some of the air pockets decreasing its R-value.
As their names suggest, fiberglass insulation is made from thin strands of woven glass designed to fit into wall spaces while rock wool insulation is made from heated rocks. The latter offers greater heat resistance and soundproofing; on the other hand, the former is cheaper. Decide which traits appeal to you more before having roofing contractors in Columbus, Ohio like the team here at Muth & Co. install them for you.
The article also discusses blown-in insulation. This type starts life as a block before being cut down and fit into an insulation blower. Roofing contractors will then use it to blow the insulation into the desired wall and roof cavities, leaving no corner unfilled and ensuring maximum heat retention for your home.
The remaining two types are spray foam and foam board insulation. You can ask reputable roofing companies like Muth & Company Roofing for more details, as well as which of the four will work best for your home. Spare no expense and fortify your abode against the coldest winter.
(Article and Image Excerpt from Types of Insulation, HowtoHomeInsulation.com, undated)
Muth & Company Roofing is a certified Master Elite Contractor through GAF servicing Columbus, Ohio and the surrounding area including Westerville, Delaware, Worthington, Dublin, Bexley, Gahanna, New Albany, and nearby communities. Muth & Company provides roofing installation services, as well as gutter installation, gutter replacement, gutter repair, attic insulation, skylight installation, and roof repair. We're proud to offer metal roofing installation and metal roof financing services.
We use quality, feature-rich products including GAF American Harvest Shingles as well as the full GAF roofing system to deliver superior protection and warranties. If you're in need of an experienced, trusted roofing or gutter company in the Columbus, Ohio region, don't hesitate to call Muth & Company for a free estimate at (614) 682-3060 today!