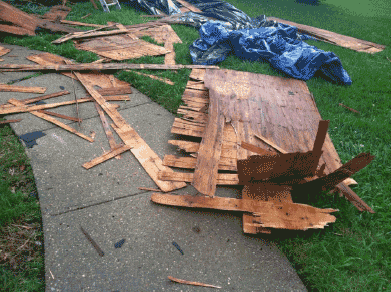 When it's time to replace your roof, you have a decision to make regarding the decking. Will you keep what you have, or upgrade it? I recommend replacing your roof deck with OSB.
Roof decking – the material covering the rafters and covered with shingles or another roofing material – is the workhorse of your roof. It keeps out water, provides a surface for nailing and braces the entire roofing system against heavy winds.
To help your shingles last 50 years, you need a sturdy deck.
Muth & Company Roofing recommends that older 3/8-inch plywood roof decks be replaced with 7/16-inch OSB (oriented strand board) when it's time to install new roofing in Columbus or other areas of Central Ohio. This is especially true if the attic is not properly ventilated, because the 3/8-inch plywood will delaminate and not provide a good surface for nailing (see picture).
Replacing 3/8-inch plywood will also help your home meet the IBHS FORTIFIED Home™ standards, which call for 7/16-inch OSB or plywood. OSB is far less expensive than plywood, and is the most frequent choice for roof decks. OSB is made from wood ground into thin wood strands that are mixed with wax and adhesive, and then hot-pressed. Approximately 50 layers of strands make one sheet of OSB. This has greater sheer strength. And it tends to hold nails better because there are no core voids or knots in the panels.
OSB won't cup, warp, split or delaminate as easily as plywood. OSB is environmentally friendly because is it made of wood from small, fast-growing trees. That means less waste and better use of our natural resources.
We're happy to help you make the best decisions for your home.
For questions about roof replacement, give your local Columbus roofers at Muth & Company a call at (614) 682-3060.
Since 1992, Muth & Company Roofing has installed the highest quality roofing systems, and gutter repair, on homes and businesses in Central Ohio.
When it comes to product knowledge, customer service, financing, workmanship and warranties, no other roofing contractor can compare to us. It's no wonder that we were the first roofing company in Columbus to receive the President's Club Certification by GAF, or that we are consistently referred out by insurance companies, realtors, and customers alike.
Contact us today for your gutter repair or roof repair needs!
Muth & Company Roofing is a certified Master Elite Contractor through GAF servicing Columbus, Ohio and the surrounding area including Westerville, Delaware, Worthington, Dublin, Bexley, Gahanna, New Albany, and nearby communities. Muth & Company provides roofing installation services, as well as gutter installation, gutter replacement, gutter repair, attic insulation, skylight installation, and roof repair. We're proud to offer metal roofing installation and metal roof financing services.
We use quality, feature-rich products including GAF American Harvest Shingles as well as the full GAF roofing system to deliver superior protection and warranties. If you're in need of an experienced, trusted roofing or gutter company in the Columbus, Ohio region, don't hesitate to call Muth & Company for a free estimate at (614) 682-3060 today!