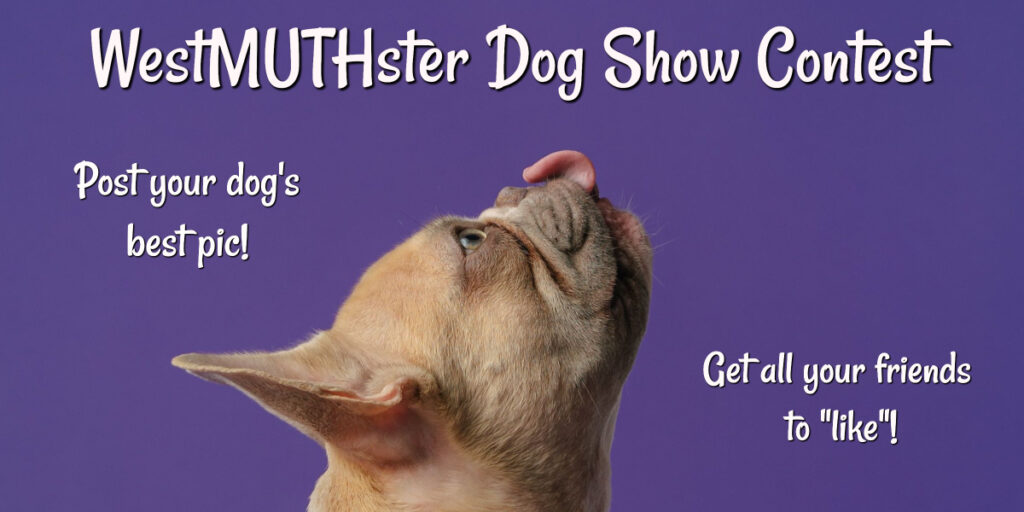 Now through January 26, 2022, at midnight, local residents can upload a photo of their favorite canine to the Muth Facebook page to enter the 2022 WestMUTHster Dog Show Contest!
The contest is a play on the Westminster Dog Show. This is the prestigious dog breed competition occurring in January 2022 at Madison Square Garden.
How To Submit Your WestMUTHster Photo
Prior to submitting their dog's photo on Facebook*, contest entrants must first "Like" the Muth & Company Facebook page.
Vote for Your Favorite WestMUTHster Dog
Share your dog's photo with all your friends and family! Facebook fans will be able to vote on their favorite dog by "liking" the dog's photo. Voting will be open through January 26, 2022. The winners will be announced on the Muth Facebook page and February 2022 newsletter. The winners will receive a basket of dog treats and other goodies. The 2022 WestMUTHster Dog Show Contest winners must be able to claim this prize in person. The prize will be available at the Muth & Company Roofing office, located at 5951 Westerville Road in Columbus, Ohio.
Give Where You Live
With every Facebook "Like," Muth & Company Roofing will make a donation to the CHA Animal Shelter. This is part of Muth & Company Roofing's Give Where You Live focus.

The CHA Animal Shelter is a 501(c)(3) nonprofit animal shelter in northeast Columbus, Ohio. CHA receives funds solely from donations from adoption fees, donations from the public, and their own fundraising efforts.
Its mission is to serve the people and animals of Central Ohio. They do this by providing safe, temporary shelter and care for abandoned or otherwise homeless cats and dogs. And to reduce pet overpopulation by means of spay and neutering, education, and community outreach. They have been fulfilling their mission since 1975.
About Muth & Company Roofing
Since its founding in 1992 by Chad and Gina Muth, Muth & Company Roofing has satisfied the need for roof repair, roof replacement, gutters, skylights, and insulation for homeowners and business owners in Columbus and across Central Ohio. Muth & Company is among an elite group of certified GAF Master Elite™ roofing contractors. Only 3% of all roofing companies in North America earn this distinction. For more information, visit muthroofing.com.
*This contest is not affiliated with Facebook.