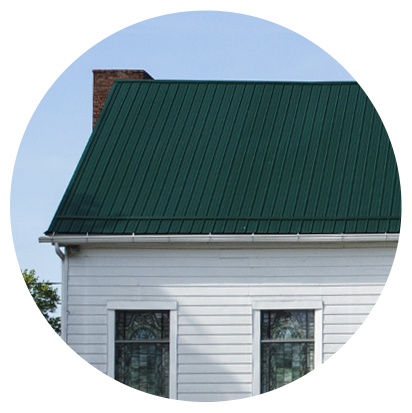 The Source for Metal Roofing in Columbus, Ohio
At Muth & Company Roofing, we are very proud to offer three different types of metal roofing panels to our Central Ohio customers, both for homes and businesses. All of our metal products are painted with AkzoNobel's most durable silicone-polyester paint coating technology, CERAM-A-STAR.
The most common panel used in metal roofing is a select panel. The select panel is 36 inches wide and is fastened down with screws that match the metal color. This panel and trim metals are 29 gauge and come in 21 different colors.
We also offer standing seam panels which come in 2 different sizes. If you are interested in learning which size is best for your home, you can speak with one of our qualified roofing consultants. This 26-gauge panel is offered in 12 different colors and can be custom made on the job site. This type of roofing material can't be installed by inexperienced roofing companies; it requires skill because individual panels must be manufactured, joined and fastened properly to avoid leaks.
Metal roofs have become increasingly popular in recent years because of their beauty, efficiency and ability to endure all kinds of weather. They also come in dozens of colors; you can pick a color that will match your brick, stone or siding, and it will look great! We'll be happy to show you all the colors available to you.
Request More Information About Metal Roofing
Metal Roofing: So Many Advantages
Here are some other benefits to know about metal roofing and metal roof repair.
Energy efficiency
Metal roofing reflects a high percentage of the radiant sun away from your house. It won't trap the heat and make your attic hot.
Durability
Standing seam metal roofs can last 50 years or more, compared to most shingled roofs which last an average of 25 years. Paint finishes also offer similar durability.
Value
No need to worry about a metal roof when you're trying to sell your home; metal has been proven to increase the value of a home in the eyes of most homebuyers. A metal roof often creates a striking appearance for great curb appeal.
Fire-resistance
Metal is of course fire-resistant, a benefit that can earn you a considerable break on your homeowner's insurance rates. And because metal does not easily bend or crack, it will maintain its shape even when exposed to extreme heat and cold.
Maintenance-free
While nothing is maintenance free, a metal roof gets close. With metal roofs, you won't see the curling, peeling, cracking or algae growth that you might see with some shingles.
Muth's workmanship warranty
We back our metal roofing projects with a 10-year workmanship warranty on labor and installation. That means we'll come back and perform Columbus roof repair of anything that's wrong due to installation.
Strength
Metal roofing has consistently held up well during wind tests and in actual storm situations.
Subscribe to get the latest news, deals, and more
Signup for our free monthly newsletter. No sales pitch, just lots of great info, recipes, and a calendar of area events. And even a laugh or two!