Experience the Muth Difference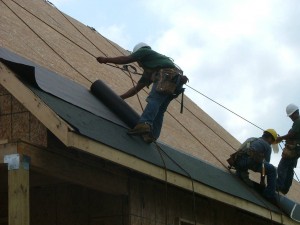 You have many options when it comes to selecting a Columbus roofing contractor for your home or business. But to get the highest level of both quality and service, your best choice is Muth & Company Roofing. Here are five reasons why we are the right choice for your Columbus roofing project.
Supporting Homeowners and Our Team Through Consistent and Regular Training
The only way the Muth & Company team can consistently deliver excellent service and top-quality roofing systems is by making sure every member of our staff is properly trained and certified in the latest "best practices" in roof repair and installation.
We invest heavily in training to make sure all of our employees are familiar with our roofing products and the best ways to install them. Every Muth & Company installer completes the exhaustive GAF Master Elite® certification training program, and all new employees must pass a GAF Pro Field Guide test within six months of joining our company. Learn more about our training here.
Dedicated to Giving Back to Our Community
Muth & Company Roofing is committed to giving back to the communities where we live and work. We are active participants in Habitat for Humanity Mid-Ohio projects throughout the Columbus and Franklin County area. Learn more about our work with Habitat for Humanity Mid-Ohio here.
Muth has partnered with GAF for many years to support our troops, the Roofs for Troops program offers a $250 rebate to those who have served our country. Ask our experts to learn the details of this program or visit the GAF Roofs for Troops page.
Muth is a proud supporter of the 2nd and 7 Foundation programs to "tackle illiteracy" in central Ohio and around the nation by providing free books and positive role models to kids in need. We also support a wide variety of additional local causes. Follow our Facebook page to engage with us and other central Ohio businesses and causes.
"In 20 years, I saw the landfill go from being four stories deep to four stories high," says Chad Muth, president of Muth & Company Roofing. "I felt strongly that this wasn't good, and I was going to do something about it."
With more than 11 million asphalt shingles entering U.S. landfills every year, it is estimated that roofing debris makes up as much as 10% of landfill volume. The problem is that asphalt shingles are made to endure and do not decompose quickly.
Muth & Company Roofing is taking steps to combat this growing problem. We participate in a "Roof to Road" recycling program that promotes converting used asphalt shingles into asphalt used to pave America's streets and highways. While the "Roof to Road" program is smaller than it used to be we still tries to do our part. Since 2011 Muth has recycled over 5,294 tons of shingles, in addition Muth regular recycles applicable metal products.
We want to thank homeowners in central Ohio for entrusting us with your homes, and for recommending us to your friends and neighbors. Your home may be your most valuable financial asset. We know you have a choice of Columbus roofing companies, and as you can see on our customer reviews page, we strive to be the best local company you'll ever hire. After roofing Columbus area homes and businesses for 30 years, we know what it takes to continue being the premier roofing contractor in Columbus, Franklin County, Delaware County, Licking County and surrounding areas!