Compare Our Roofing Warranties
No other Columbus, Ohio, roofing contractor offers you more warranty choices for your new roof than Muth & Company Roofing. Simply put, we offer the best and safest warranties in the roofing business, backed by the largest roofing materials manufacturers.
To help you select the right warranty, the chart below summarizes the key provisions of each of our roofing system warranties. Of all the roofing companies in Columbus, Ohio, and surrounding communities, the team at Muth & Company Roofing will help you decide which warranty plan is best for you.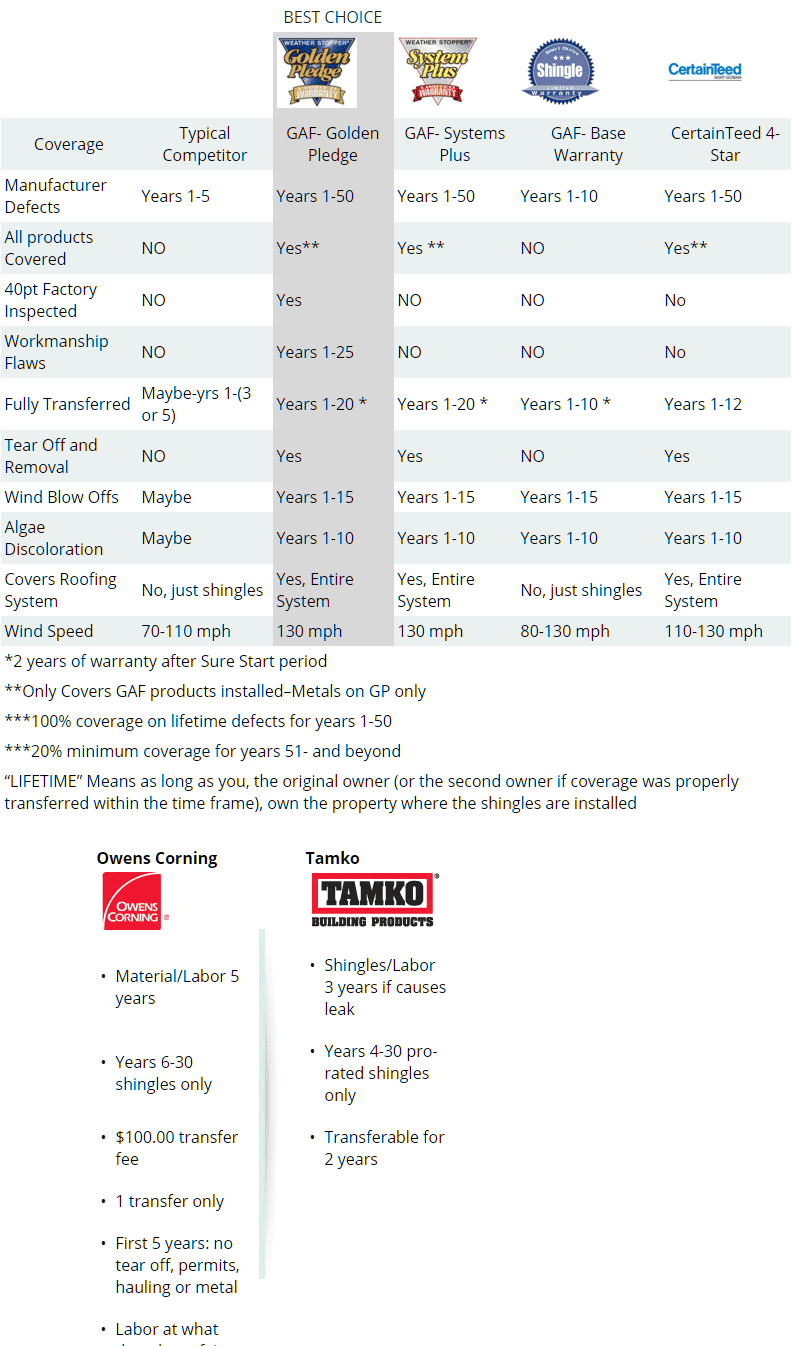 Muth & Company Roofing is the roofing contractor Columbus homeowners turn to for the best roof warranty protection!
Starting at $300, the Mr Moose's Roof Maintenance Plan includes a complete roof inspection and tune-up every year.
When you buy a brand new car or truck it is covered under a warranty. But you still have to get regular maintenance on it such as new tires or oil changes, right? Just like your car, your roof should be checked and serviced at least once a year. Who better to do this than the GAF Master Elite® certified contractor you called in the first place? For a small yearly service fee, we will contact you and come out to tune up your roof. While there, we will complete the following work as it applies to your home:
Clean all gutters
Re-nail all gutter spikes
Check all chimney flashings
Check all wall flashings
Check all skylight flashings
Check all valley flashings
Re-seal all flashings
Paint all flashings (valleys at additional cost)
Check for damage caused by weather, animals, or other acts of nature
Provide you with a complete roof inspection report for your records
After we climb and inspect your roof, we'll let you know if there are any issues, and what to look out for in the future. Think of it as an annual physical. It's good to know what kind of shape your roof is in – and what you can do to prevent future problems.
Whether you have us install a new roof or do a repair for you, ask Muth & Company Roofing to do an annual checkup. Complete this form now and we'll contact you to confirm a set time.