A commercial roof is typically low-sloped and expansive so it is not easy to detect signs of deterioration. While regular roof inspections keep your roof in tiptop condition, it also pays that you choose a roofing material that suits your locality's climate. A reputable Columbus roofer is likely to tell you that when it comes to commercial structures, you should opt for a metal roof as it offers unparalleled advantages.
Below is an excerpt from a Yahoo! Voices article that explains why having a metal roof for your commercial structure is beneficial: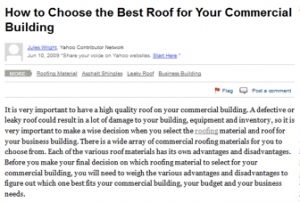 Metal roofs are another common choice for commercial buildings. There are various types of metal that are used including aluminum, copper and steel. One advantage to a metal roof is their longevity. Metal roofs can last up to thirty to fifty years. They are usually more expensive than asphalt shingles but less expensive than slate or tile roofs.
Ideal Platform for Solar Energy
Unlike other materials, metal roofs are known for making it possible to make use of solar energy and solar thermal renewable energy because it is compatible with majority of solar panels or similar technology. Metal roofs can also garner up to 25 U.S. Green Building Council LEED credits as the coatings for them can impede the sun's energy of up to 75 to 80 percent.
Longer Lifespan
Metal roofs have been known to last for approximately 40 years. However, if you ask most dependable Columbus, Ohio roofing contractors like Muth & Company Roofing, they are likely to tell you that with roof coatings and galvanic protection on the rise, metal roofs can even exceed their expected service life. The paint finish protects the metal roof from harmful UV rays so it won't breakdown in the long run.
Environment-Friendly
Metal roofs are 100% recyclable at the end of their lifespan. Since they are made from recycled components, they minimize waste that goes into landfills. With metal roofs, homeowners can make the most out of their purchase, and at the same time not posing any threats to the environment.
Indeed, a metal roof system for a commercial building has very attractive benefits that no practical entrepreneur can resist. While searching for a contractor to work with, take note that lower estimates don't always guarantee quality work and materials. Talk to us about whether a metal roof makes sense for you.
(Article Information and Image from How to Choose the Best Roof for Your Commercial Building, Yahoo! Voices)