Look for these most commons signs that you need a new roof.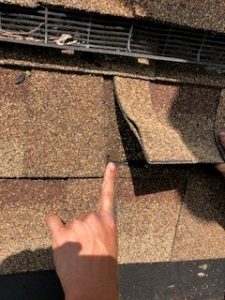 Roof age – How old is your existing asphalt shingle roof? Most experts agree that a typical roof will last between 20 and 25 years.
Shingles – Curling and buckling Curled or buckling shingles are another sign that you may need a new roof, not a roof repair.
Roof valleys – Valleys are one of the most important areas of your roof. Snow and rain flow through valleys and into gutters. Once the valley is compromised, you can be susceptible to roof leaks.
Missing shingles – Check to see if all of the shingle "tabs" are intact.
Chimney flashing – If your flashing consists of roof cement or tar, it may need to be replaced with a long-term, water-tight fitting, which would be a metal flashing system.
Shingle granules – In the gutters and on your driveway surface Look in your gutters to see whether they are loaded up with shingle granules. Roofs tend to lose more granules toward the end of their life cycle.
Our customers who have signed up for our annual maintenance program have reaped the benefits of someone looking after their roof year after year. The program includes annual gutter cleaning and a close inspection of any shingles, flashing or metal sections that need repair. It's a very good value – call us today for pricing.
Need the best roofing available in Columbus, OH, and surrounding communities? We're the roofer who wants to earn your business. Call Muth & Company Roofing today for a FREE estimate, or fill out our contact form. We serve Columbus, Westerville, Delaware, Worthington, Dublin, Bexley, Gahanna, New Albany and many other surrounding Central Ohio cities.
Muth & Company Roofing is a certified Master Elite Contractor through GAF servicing Columbus, Ohio and the surrounding area including Westerville, Delaware, Worthington, Dublin, Bexley, Gahanna, New Albany, and nearby communities. Muth & Company provides roofing installation services, as well as gutter installation, gutter replacement, gutter repair, attic insulation, skylight installation, and roof repair. We're proud to offer metal roofing installation and metal roof financing services.
We use quality, feature-rich products including GAF American Harvest Shingles as well as the full GAF roofing system to deliver superior protection and warranties. If you're in need of an experienced, trusted roofing or gutter company in the Columbus, Ohio region, don't hesitate to call Muth & Company for a free estimate at (614) 682-3060 today!