Knowing how a roof repair process works helps ensure that your project runs as smoothly and as efficiently as possible. As mentioned earlier, roof repair is a complex and sometimes expensive job, so it should be done right the first time. Here are some of the things you should expect: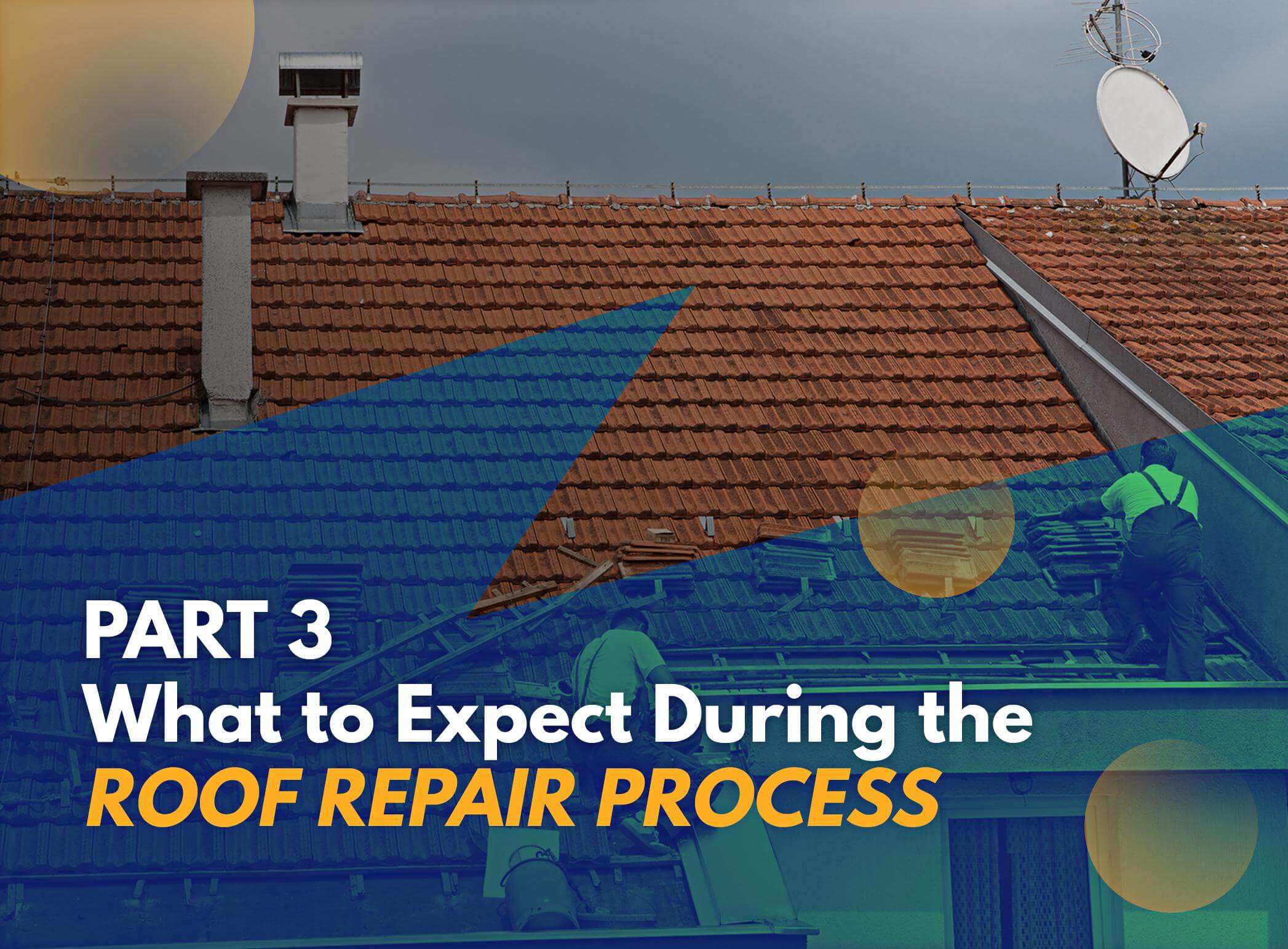 Convenient roof repair consultation.

The first order of business for you is to call up a trusted roofing contractor to schedule a consultation. They should be able to arrange an estimator to visit your home at a time convenient for you.

Comprehensive roof inspection.

The repair work can't start without the estimator conducting a comprehensive inspection of your roof's condition first. They should be able to examine every inch of your roofing system for signs of weather damage. Any problem areas, like the source of leaks, should be documented with photos and, whenever possible, with videos. Following this, they should suggest the appropriate repair solution for the issues they've found.

Smooth insurance claims assistance.

If your insurance covers roof damage, your contractor should be able to guide you through every aspect of the claims process. This should  include coordinating with the insurance adjustor and submitting the necessary documentation for added credibility.

Detailed contract.

When the insurance company has given you the green light, your contractor should then provide you with a contract detailing the work involved. This should include the project's timeline, cost of materials and labor, potential change orders, payment details, and other crucial factors. Make sure their insurance is in order, as well. A verbal agreement and a firm handshake aren't enough–to protect yourself and investment, have the contract in writing  and sufficiently detailed.

Acquisition of building permit.

Don't forget to apply for the necessary building permit before work starts on your roof.

Thorough home preparation.

Make sure to cover furniture and other belongings to protect them from dust. Take down items like light fixtures and paintings from the ceiling and walls. Practice the right safety procedures, especially when it comes to your pets and younger children. If possible, keep them off the property until the repairs are done.

Actual roof repair.

Your roofer should be able to work on your roof in the safest and most efficient way possible.

Cleanup and debris removal.

Roof repair can be a messy job–make sure your roofer has provided measures that help protect your home from unnecessary damage. They should be able to help you clear off debris from your property as well.
You can expect a safer and worry-free roof repair process once you've taken these into account. With the right considerations and a reliable roofing contractor to handle the work, you can be sure your system will be able to provide superior weather performance all year round.
Muth & Company Roofing is a certified Master Elite Contractor through GAF servicing Columbus, Ohio and the surrounding area including Westerville, Delaware, Worthington, Dublin, Bexley, Gahanna, New Albany, and nearby communities. Muth & Company provides roofing installation services, as well as gutter installation, gutter replacement, gutter repair, attic insulation, skylight installation, and roof repair. We're proud to offer metal roofing installation and metal roof financing services.
We use quality, feature-rich products including GAF American Harvest Shingles as well as the full GAF roofing system to deliver superior protection and warranties. If you're in need of an experienced, trusted roofing or gutter company in the Columbus, Ohio region, don't hesitate to call Muth & Company for a free estimate at (614) 682-3060 today!