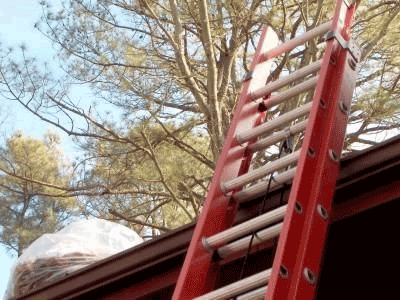 As summer winds down and the days become cooler, the first leaves have already begun to fall from the trees – a sure sign that it will soon be time to clean out your gutters. It's easy to forget about this important chore because you can't see inside gutters from the ground. If you could, you might be surprised by how much gunk and grime collects here. Months and even years may go by before you realize that your Columbus, OH, gutters are clogged or in need of repair, often because you've experienced some kind of water damage to your home.
The Downsides of a Clogged Gutter
Gutters clogged with wet, heavy leaves and debris can pull away from fascia board, causing sags and overflow. If not cleared, water will back up and flow behind and over the gutter, leading to rot and possible foundation problems. More trouble follows in winter, when clogged gutters can freeze and contribute to the formation of ice dams.
A few hours of preventive maintenance in the spring and fall is all it takes to virtually eliminate gutter issues before they start. However, Columbus gutter cleaning should only be attempted by those who are able-bodied, take proper safety precautions and have the right equipment.
Muth & Company can help with any gutter issue, including gutter cleaning and maintenance. We can safely remove leaves and debris so you can be confident your gutters, downspouts and underground drains are clear before winter hits. We'll inspect all areas of your gutter system for potential problems, and ensure the gutters are securely fastened to the fascia. If your gutters need to be replaced, we can install custom-made seamless gutters on your home.
Prevent Gutter Clogs
To permanently eliminate the hassles of gutter cleaning, ask Muth & Company to install the Leaf Relief® gutter guard system on your home this fall. Give us a call today at (614) 682-3060 to talk gutters and gutter protection!
Muth & Company Roofing is a certified Master Elite Contractor through GAF servicing Columbus, Ohio and the surrounding area including Westerville, Delaware, Worthington, Dublin, Bexley, Gahanna, New Albany, and nearby communities. Muth & Company provides roofing installation services, as well as gutter installation, gutter replacement, gutter repair, attic insulation, skylight installation, and roof repair. We're proud to offer metal roofing installation and metal roof financing services.
We use quality, feature-rich products including GAF American Harvest Shingles as well as the full GAF roofing system to deliver superior protection and warranties. If you're in need of an experienced, trusted roofing or gutter company in the Columbus, Ohio region, don't hesitate to call Muth & Company for a free estimate at (614) 682-3060 today!