Here at Muth & Company Roofing, we work hard to be the best in our industry and are careful to align ourselves with manufacturers that produce top-quality products and aren't afraid to stand behind them. That's why we're proud to be partnered with GAF, the leading manufacturer of roofing materials in North America.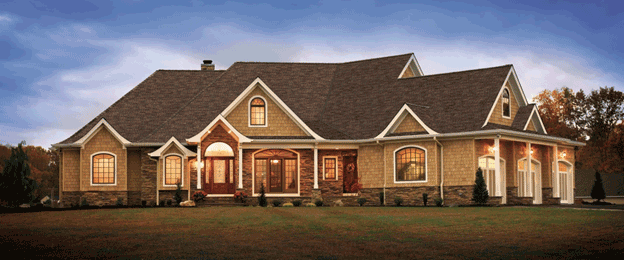 GAF is known for continuous innovation in its products, and the latest offering continues that tradition. We're excited to announce that we are now installing Glenwood™ Shingles, the newest addition to GAF's Lifetime Designer Series. Glenwood Shingles have been designed to recreate the look of authentic wood shakes without the drawbacks of wood. Here are some features that set this shingle apart for roofing in Gahanna, Ohio, and surrounding areas.
Lower maintenance. Many homeowners are reluctant to install cedar shakes due to their shorter lifespan and the maintenance required to keep them looking their best. Glenwood Designer Shingles give you the look of cedar shakes while still offering a 50-year, non-prorated warranty on both labor and materials.
With triple-layer construction, Glenwood Shingles are the thickest asphalt shingle available to give your roof the authentic look of hand-cut wood shakes.
With a 50-year, non-prorated warranty on both labor and materials, Glenwood Shingles are likely the last roof you'll ever have installed on your home, at a fraction of the cost of cedar shakes.
Fire resistance. Because cedar shakes are more susceptible to fire than asphalt shingles, your insurance company may charge higher premiums for this type of roofing. Glenwood Shingles qualify for a UL Class A fire rating, the highest possible rating, for better fire resistance and lower rates.
Algae resistance. Unlike cedar shakes which are prone to algae and moss growth, Glenwood Shingles include StainGuard Protection which works to protect your roof from algae.
Get a Quote on Glenwood™ Shingles
Glenwood™ Shingles are available in six distinctive colors and come with a Lifetime transferable warranty plus Smart Choice® Protection for non-prorated material and installation labor coverage for the first 10 years. As a GAF Master Elite™ certified contractor, Muth & Company has a proven reputation for providing quality service and will ensure you receive full warranty coverage for your new roof. You can be confident your roof will be installed by Dublin, OH, roofing experts by calling (614) 682-3060.