No business can be successful if they don't strive to keep their customers happy by providing reliable workers, superior workmanship and excellent customer service. And that is why we say, "We won't finish until you are 100% satisfied."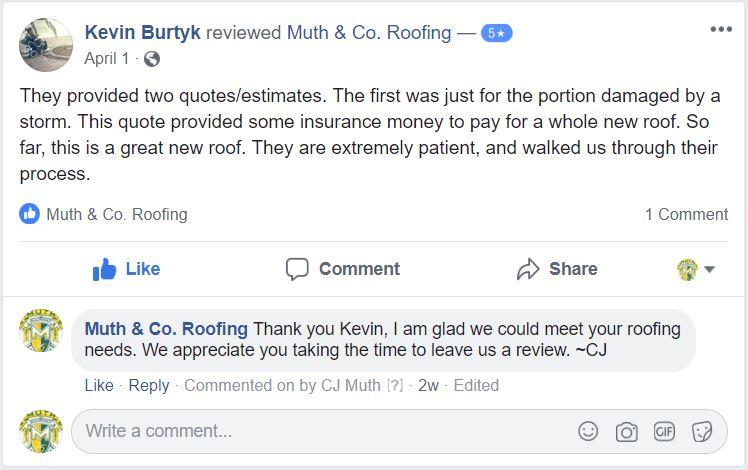 With over 30 years of exceptional service to our community, Muth & Company Roofing has no shortage of positive reviews as a testament to our satisfied customers. Here are a few of their recent experiences in their own words:
Anita D. – July 2018 (Google)
"We recently move in to a 100+ year old house with an aged roof and box gutters which, as it turned out needed to be replaced. Replacing box gutters is no small task. Muth replaced the roof on our previous home (great job) and after getting multiple estimates we contracted with Muth for the replacement of the roof and box gutters on our new historic home. Kelly was responsive and kept us informed throughout the process. Tony and his crew were prompt, efficient and responsive. Replacing box gutters is expensive but it helps to know if was done right and with a strong guarantee. A good company which does good work."
Carl D. – 6/11/18 (Better Business Bureau)
"I contacted Muth & Company Roofing to see if they could address a roof construction issue at our church. I received a phone message call back from J******* who said that they couldn't do the type of repair that we needed. She went further and recommended going to two different sites that we might be able to find a different contractor who could handle our repair. Thanks to J******* we were able to find another contractor!"
Ellen M. – June 2018 (Google)
"I contacted Muth for an estimate on repairing flashing around my chimney. The estimate happened a few days later and was emailed to me. The estimate included pictures of what my current chimney flashing looked like (which was nice to see). I emailed back and approved the estimate, I also asked them to clean my gutters. The scheduling department called and we set up a date. Two days later they called again, a job finished early and they could come to my house the next day. The workers were very nice and professional. I was happy with the work performed. When the job was finished they emailed a final invoice with photos of the completed work. Muth is a great company with kind professional people. I highly recommend them."
Schedule a Free Estimate With Our Pros
If you're looking for a roofer that can take care of every roofing need, give Muth & Company a call at (614) 682-3060 to schedule your free consultation. From roof replacement to gutter repairs, we've got you covered!
Muth & Company Roofing is a certified Master Elite Contractor through GAF servicing Columbus, Ohio and the surrounding area including Westerville, Delaware, Worthington, Dublin, Bexley, Gahanna, New Albany, and nearby communities. Muth & Company provides roofing installation services, as well as gutter installation, gutter replacement, gutter repair, attic insulation, skylight installation, and roof repair. We're proud to offer metal roofing installation and metal roof financing services.
We use quality, feature-rich products including GAF American Harvest Shingles as well as the full GAF roofing system to deliver superior protection and warranties. If you're in need of an experienced, trusted roofing or gutter company in the Columbus, Ohio region, don't hesitate to call Muth & Company for a free estimate at (614) 682-3060 today!