This past spring, Allison Morris became a full-time member of the Muth & Company team after working part-time in the office since 2008 while attending college. As office manager, Allison is responsible for accounts receivable, data entry, scheduling and other general office duties. "It's so nice to have Allison here full-time because now we know our customers are being treated exactly like they should," said Gina Muth, Vice President of Administration. "She's grown so much and handles her position magnificently."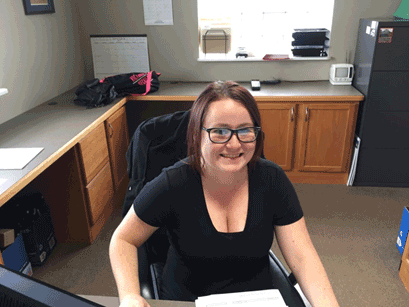 "My favorite thing about working for Muth & Company is the people I get to work with every day," says Allison. "We're set apart from other roofing companies in Columbus, Ohio, by the level of honesty and reliability our team offers." She believes the greatest strength she brings to the team is her loyalty.
Originally from Gahanna, Allison attended Gahanna Lincoln High School and graduated from The Ohio State University with a B.A. in Criminology. Graduating a Buckeye is her proudest accomplishment to date! In the future, she hopes to be successful and raise a beautiful, happy family.
In her free time, Allison's hobbies include sports, family and friends. In addition to the Buckeyes, other favorite teams include the Cleveland Browns, Blue Jackets, Cleveland Cavs, Miami Heat and Cleveland Indians.
Allison's favorite places to dine out are Carrabba's Italian Grill and BJ's Brewhouse. Favorite TV shows include The Big Bang Theory, Big Brother and Scorpion. If she could go anywhere for a day, she would head back to the Florida Keys (she used to live there) to visit old friends and family, and relax in the sun!
If she could give others one piece of advice about life, it would be this: "Stay loyal and true to yourself." Thanks for being part of the Muth family, Allison!