If you have hired Muth & Company Roofing for a roof replacement or roof repair in Gahanna, OH, you know that we strive to do quality work while making the process as smooth and hassle-free as possible. It will probably come as no surprise that for 2015, Muth & Company Roofing won the prestigious GAF Master Elite™ President's Club Award yet again. We just received the news and we're proud that this is the fifth year in a row we have earned this honor!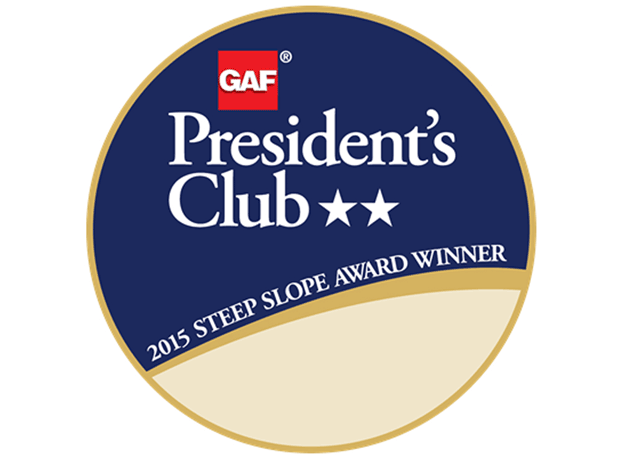 The Triple Excellence Awards
Winning the President's Club Award is a testament not only to our commitment to excellent customer service and support, but our superior workmanship as well. To be eligible for this award, Muth & Company had to first earn the Triple Excellence Awards, which include the following requirements:
Installation Excellence. Muth & Company believes that a job worth doing is worth doing right the first time. The Installation Excellence Award is achieved by receiving 15 perfect 10's on inspections of GAF Golden Pledge® warranties, a result of our quality installation workmanship.
Training Excellence. We are dedicated to the ongoing training of our roofers so they will be knowledgeable about all the latest products and installation techniques. In order to qualify for the Training Excellence Award, 10 hours of continuing education must be completed and every supervisor must be Master Elite-certified.
Consumer Protection Excellence. Muth & Company Roofing believes in making sure our customers have nothing to worry about down the road. To receive the Consumer Protection Excellence award, 15 Golden Pledge warranties must be installed.
Get in Touch with the Best Columbus Roofing Contractors
As you might have guessed, it is very difficult to earn the President's Club Award. In 2013, for example, less than 100 companies out of almost 3,000 GAF Master Elite contractors received it. We couldn't have done it alone, however, and we would like to thank our amazing staff and outstanding customers for helping us reach this goal. Contact us today at (614) 682-3060 for a FREE estimate and see for yourself why we are the best Columbus roofing contractors in the area!