When it comes to product knowledge, workmanship, and customer service, no other roofing contractor compares to Muth & Company Roofing. We always strive to go the extra mile to make our customers' experience with us as easy and pain-free as possible, and one way we do this is by completing a pre-work checklist before each project.
What Our Pre-Work Checklist Includes
A successful roofing project is all about good communication. Our innovative checklist covers the most common questions our customers ask us, and gives you as the homeowner the opportunity to educate us about your property and lifestyle, so there are no surprises. We'll ask for information about the following: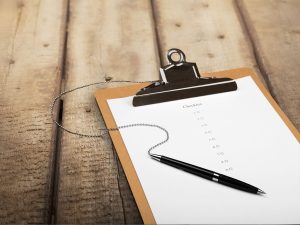 Start and stop time

. We'll work with your schedule to make disruptions to your daily schedule as minimal as possible.

Special needs.

The safety of children and pets and consideration for your neighbors are top priorities, so please let us know of any special needs in that regard.

Parking.

What is the most convenient spot to park heavy vehicles, machinery, and other equipment?

Personal belongings.

Please ensure that all wall hangings, attic valuables, landscaping, and yard decorations have been secured, covered, or removed. We don't want to inadvertently ruin one of your prized possessions!

Paint.

Select from one of our four paint options. If preferred, you can also provide specialty paint or pay for it, and we will apply it.

Special precautions.

Please let us know of any other specific arrangements or precautions we need to take.
At Muth & Company Roofing, we want you to have the very best home improvement experience. We won't stop until you are 100% satisfied. We've been receiving rave reviews for years! Find out more about what makes our roofing company the best in the area. Schedule a FREE estimate, contact us today at (614) 682-3060.