What do you think of when you think about Memorial Day?
Cookouts, the opening of swimming pools, the start of summer? All of those have become the focus of this long weekend. Spending time with family and friends enjoying a Monday off are great. But let's not lose sight of what Memorial Day is all about.
It used to be called "Decoration Day." People would visit military cemeteries and decorate the gravestones with flowers. Now it's the one-day a year when we officially remember those who gave their lives in service to their country.
Memorial Day is a day to pay tribute to the men and women who have served in the military.
At Muth & Co. Roofing, Memorial Day is just a reminder of our ongoing, year-round commitment to honoring military men and women. Each year, we solidify our commitment by participating in the US Chamber of Commerce Foundation Hiring Our Heroes program. Hiring Our Heroes is a nationwide initiative. This initiative helps veterans, transitioning service members, and military spouses find meaningful employment opportunities.
Our goal is to find potential employees with valuable skills, qualities and a strong work ethic to the Muth team.
Chad Muth, President of Muth & Co. Roofing says, "I have always liked hiring Vets. Vets have a strong work ethic and are used to working together as a team. That's what we are at Muth and Company…a big team!"  Here are Muth & Company Roofing's heroes: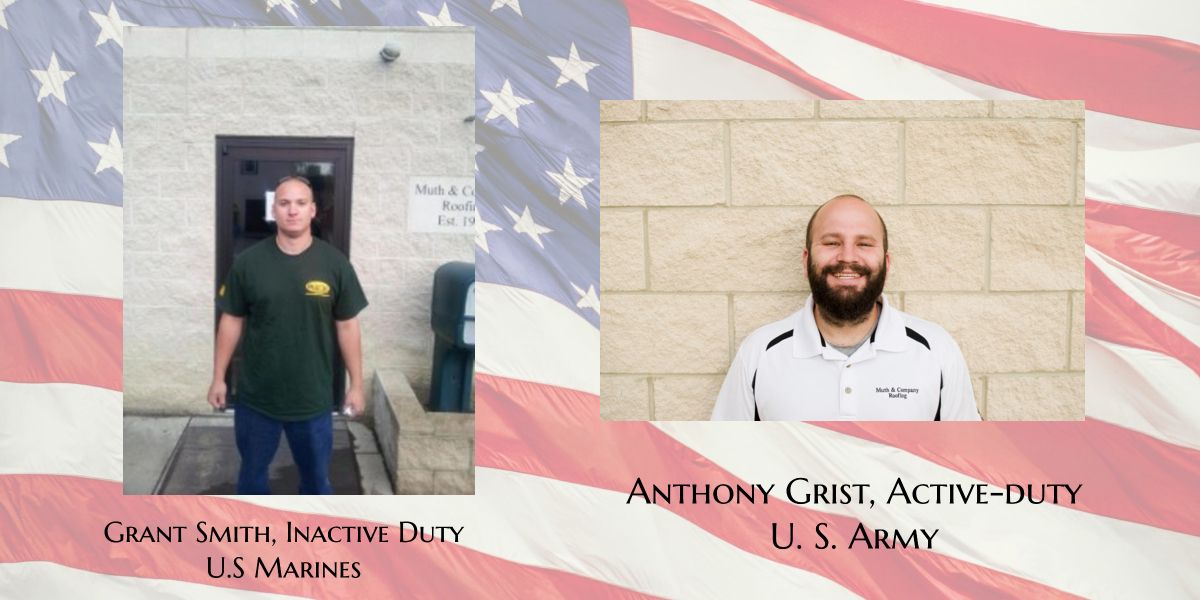 Enjoy your holiday weekend and take some time to think about the meaning of Memorial Day.
Fly your American flag proudly and thank a soldier or Vet for their service! Attend a Memorial Day service, ceremony or parade in your local community.
Click for a list of Memorial Day events throughout the Columbus area.
Need the best roofing available in Columbus, OH, and surrounding communities? We're the roofer who wants to earn your business. Call Muth & Company Roofing today at (614) 882-0900 for a FREE estimate, or fill out our contact form. We serve Columbus, Westerville, Delaware, Worthington, Dublin, Bexley, Gahanna, New Albany and many other surrounding Central Ohio cities.
Thank you for your service —and for your protection! Attention U.S. Military Troops. Get a $250 rebate when you install a qualifying GAF roofing system on your home and purchase an Enhanced Warranty. Valid for installations between 1/1/2021 and 12/31/21.