Hazards of home repair: know when to call an expert, Arizona Daily Star, August 18, 2013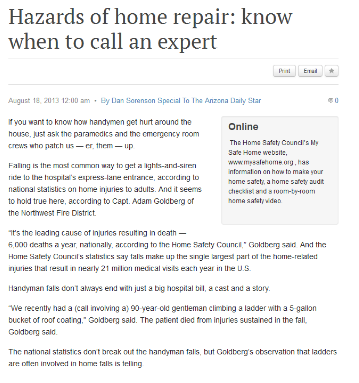 Dan Sorenson's article on the Arizona Daily Star, dated August 18, 2013, warns about the dangers of DIY home repair. Specifically, he quotes statistics pointing to handyman falls as one of the leading causes of injuries and death in any home repair or improvement project:
"Falling is the most common way to get a lights-and-siren ride to the hospital's express-lane entrance, according to national statistics on home injuries to adults. And it seems to hold true here, according to Capt. Adam Goldberg of the Northwest Fire District.
It's the leading cause of injuries resulting in death — 6,000 deaths a year, nationally, according to the Home Safety Council," Goldberg said. And the Home Safety Council's statistics say falls make up the single largest part of the home-related injuries that result in nearly 21 million medical visits each year in the U.S.
Handyman falls don't always end with just a big hospital bill, a cast and a story."
All roofs need proper and timely maintenance since they often face significant wear and tear from constant exposure to the elements. While every homeowner should know when roofing repairs or replacement are called for, one should not risk life and limb and attempt to deal with Columbus, Ohio roofing concerns unassisted. The elderly, as well as those who take blood-thinning medications, are advised to call on professional roofers rather than climb up ladders and carry out roof repairs on their own.
Sorenson spoke with city officials to get their opinion on the issue of homeowners tragically falling from attempted roof repairs. According to these authorities, folks 60 years and older with medical conditions and who do not use safety devices are often at risk of falling from height. Most of the accidents reported also involved the use of unsecured ladders as well as the absence of any safety harness.
When you're suffering from gout, arthritis, or hypertension, roof repair should take a backseat to your health and safety. In areas like Ohio where notoriously stormy weather can wreak significant havoc on residential roofing systems, it is more advisable to call on a Columbus, Ohio roofing expert like Muth & Company Roofing. These professionals are better equipped to tackle any roof repair job as safely as possible.
http://www.ehow.com/about_6503337_roof-repair-safety.html
Muth & Company Roofing is a certified Master Elite Contractor through GAF servicing Columbus, Ohio and the surrounding area including Westerville, Delaware, Worthington, Dublin, Bexley, Gahanna, New Albany, and nearby communities. Muth & Company provides roofing installation services, as well as gutter installation, gutter replacement, gutter repair, attic insulation, skylight installation, and roof repair. We're proud to offer metal roofing installation and metal roof financing services.
We use quality, feature-rich products including GAF American Harvest Shingles as well as the full GAF roofing system to deliver superior protection and warranties. If you're in need of an experienced, trusted roofing or gutter company in the Columbus, Ohio region, don't hesitate to call Muth & Company for a free estimate at (614) 682-3060 today!