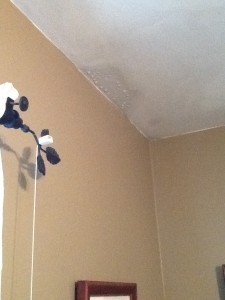 Sometimes a humidifier can do more harm than good.
Lately, Muth & Company crews are inspecting many homes with moisture issues in walls, ceilings and windows. We are finding that many of these problems are from humidifiers being set too high.
During the Ohio winter, humidifiers come in handy to moisten dry air that results from the constant use of home heating systems. This dry air can dry out and irritate your eyes, throat and lungs. Dry skin is another problem.
However, humidifiers can cause another set of problems if overused.
If the humidity is too high in a home, mold and dust mites may thrive. Both are common causes of allergies. Health issues that can arise from a humidifier include allergies, asthma flair-ups, coughs, flu-like symptoms, and lung and sinus infections. Mold also causes an unpleasant smell and can discolor surfaces. Here are other problems that result from the overuse of humidifiers.
Water stains on walls and ceilings
Condensation on windows during the winter
Mildew growing in the bathroom
Mold growing in the corner of a closet, kitchen or bathroom
Peeling, cracking or blistering paint
How Much Humidity is OK?
The Environmental Protection Agency states that ideal indoor humidity levels can vary, but generally should be less than 60% and ideally between 30-50%.
Although this range is recommended, it can still cause issues if your home is improperly vented. And if you start see excess moisture on windows or your walls, keep turning it down. No home is exact therefore no home will be the same.
To determine exactly how much humidity is in your home, you can purchase an inexpensive hygrometer at a hardware store. This is a special thermometer that can measure the amount of moisture in the air.
If the moisture levels of most rooms in your home fall in the recommended range, you don't need to use a humidifier.
Remember that everyday living contributes a significant amount of moisture to indoor air. Cooking three meals a day adds four to five pints of water to the air. Each shower contributes a half-pint. Even washing dishes, mopping floors and doing laundry adds moisture to indoor air.
Other Causes of Water Damage
There are many other causes of moisture problems in a home, specifically roof leaks and improper attic ventilation. The Columbus, Ohio, roofing experts at Muth & Company Roofing can conduct a thorough inspection of your home to narrow down the cause of moisture damage, and provide prompt roof repair in Columbus if needed. Give us a call today at (614) 682-3060.
Since 1992, Muth & Company Roofing has installed the highest quality roofing systems, and gutter repair, on homes and businesses in Central Ohio.
When it comes to product knowledge, customer service, financing, workmanship and warranties, no other roofing contractor can compare to us. It's no wonder that we were the first roofing company in Columbus to receive the President's Club Certification by GAF, or that we are consistently referred out by insurance companies, realtors, and customers alike.
Contact us today for your gutter repair or roof repair needs!
Muth & Company Roofing is a certified Master Elite Contractor through GAF servicing Columbus, Ohio and the surrounding area including Westerville, Delaware, Worthington, Dublin, Bexley, Gahanna, New Albany, and nearby communities. Muth & Company provides roofing installation services, as well as gutter installation, gutter replacement, gutter repair, attic insulation, skylight installation, and roof repair. We're proud to offer metal roofing installation and metal roof financing services.
We use quality, feature-rich products including GAF American Harvest Shingles as well as the full GAF roofing system to deliver superior protection and warranties. If you're in need of an experienced, trusted roofing or gutter company in the Columbus, Ohio region, don't hesitate to call Muth & Company for a free estimate at (614) 682-3060 today!