Box gutters can often be found on older, historical homes in Columbus, as well as other structures built in the late 1800s and early 1900s.
These time-tested rain collection systems differ from modern, pre-formed aluminum gutters. They are part of the roof structure, rather than hanging at the edge of the roofline. Concealing box gutters add to the historical integrity of cornice details or architectural moldings of a building. Their wide width generally makes them less susceptible to clogging and overflowing like smaller gutter systems.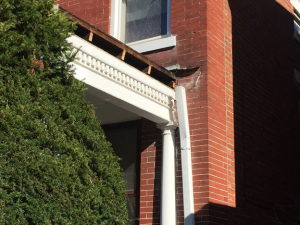 Building a box gutter
Most box gutters consist of wood framing. A thin sheet metal lining made out of galvanized steel lines the gutter. Other linings include stainless steel, copper, or other metal that will not easily corrode. An experienced carpenter builds the box into the roof overhang or into the bottom of the roof. Then sheet metal lines the box gutter. The metal creates a trough for water to flow into the downspout. A box gutter design allows water to flow smoothly to the outlet hole without pooling.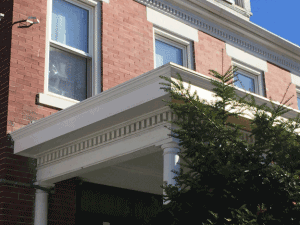 Box Gutters Require Extra Care
All wood used to build a box gutter must be in good condition and securely fastened. As with all gutter systems, it's important to keep box gutters free of debris. As well as preventing standing water which can lead to corrosion and leaks. Box gutter repair in Columbus, OH, often requires replacement of rotten wood and re-lining with sheet metal or a PVC liner.
If you need box gutters in Columbus, OH, Muth & Company Roofing can help. Call (614) 682-3060 and let our experienced crew take care of your box guttering needs.
Since 1992, Muth & Company Roofing has installed the highest-quality roofing systems, and gutter repair, on homes and businesses in Central Ohio.
When it comes to product knowledge, customer service, financing, workmanship, and warranties, no other roofing contractor can compare to us. It's no wonder that we were the first roofing company in Columbus to receive the President's Club Certification by GAF, or that we are consistently referred out by insurance companies, realtors, and customers alike.
Need the best roofing available in Columbus, OH, and surrounding communities? We're the roofer who wants to earn your business. Call Muth & Company Roofing today at (614) 882-0900 for a FREE estimate, or fill out our contact form. We serve Columbus, Westerville, Delaware, Worthington, Dublin, Bexley, Gahanna, New Albany, and many other surrounding Central Ohio cities.