Are you satisfied with your current roof's performance? How long has it been since you had your roof checked? While traditional roofing has its own high points, an upgrade surely won't hurt. In fact, it's among the best ways to increase the functionality and beauty of your home.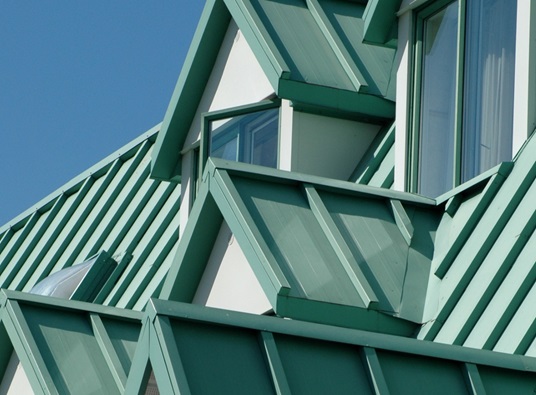 One way to upgrade your roof is to switch to seam metal roofing. Ordinary metal roofing is different from the standing seam kind. Although the latter is the more advanced of the two, it is now available for both residential and commercial use. If you find yourself considering a roof replacement, Muth & Roofing Company is here to help. Here are four reasons why you should switch to standing seam metal roofing in Dublin, OH:
1. Durability
Standing seam metal roofing has continuous interlocking panels from the roof's ridge all the way down to its eaves. This type of roofing is known for its durability and longevity. It doesn't crack, corrode, or shrink. Standing seam metal roofing offers all-out protection against harsh elements. It consistently holds up well against wind-resistance tests and actual storms. Since it's metal, it offers excellent resistance against fire, heat, and cold. It has a long service life, making it a cost-effective choice.
2. Energy Efficiency
Another reason to choose standing seam is for its energy efficiency. It reflects a huge percentage of the sun's harmful rays. Contrary to common knowledge, standing seam metal roofing won't trap heat or make your attic hot. In fact, the U.S. Environmental Protection Agency generally considers all metal roofing a cool roof. Because of this, you won't have to worry about overworking your heating or cooling systems. Further, a standing seam metal roof can maintain whatever temperature you have indoors.
3. Ease of Maintenance
The great thing about the standing seam metal roofs we install is that they're easy to maintain. They are highly recommended for homeowners who do not have the time for frequent maintenance. You won't have to worry about curling, peeling, or even algae growth. As you know, moisture is the main culprit for algae or mold growth. To avoid the accumulation of moisture, we elevated the seams of our metal roofs way above the roofing panel's level.
4. Aesthetics
Standing seam metal roofing has a sleek look, which is perfect for both modern and traditional homes. With this type of roofing, matching the look of your existing structure is easy. Furthermore, standing seam metal roofing comes in dozens of colors. Whatever color you choose will look spectacular against your stone or brick siding. A standing seam metal roof is an eye-catcher. Compared with other roofing materials, it gives your home's exterior a more sophisticated and clean look.
Bonus: Another reason to choose our standing seam metal roofing in Delaware, OH, is for its workmanship warranty. At Muth & Company Roofing, our metal roofs are backed by a 10-year warranty on installation and labor.
If you're ready to switch to standing seam metal roofing, call us at (614) 682-3060.
Muth & Company Roofing is a certified Master Elite Contractor through GAF servicing Columbus, Ohio and the surrounding area including Westerville, Delaware, Worthington, Dublin, Bexley, Gahanna, New Albany, and nearby communities. Muth & Company provides roofing installation services, as well as gutter installation, gutter replacement, gutter repair, attic insulation, skylight installation, and roof repair. We're proud to offer metal roofing installation and metal roof financing services.
We use quality, feature-rich products including GAF American Harvest Shingles as well as the full GAF roofing system to deliver superior protection and warranties. If you're in need of an experienced, trusted roofing or gutter company in the Columbus, Ohio region, don't hesitate to call Muth & Company for a free estimate at (614) 682-3060 today!