With everything that the members of our military do to protect our lives and our freedoms, there is no way that we can ever repay them. However, we can do small things to make their lives a little easier. That's why GAF, a U.S.-based roofing corporation, came up with the Roofs for Troops Rebate.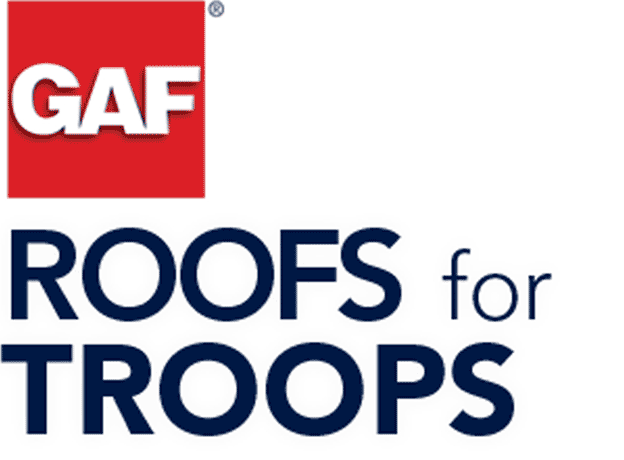 What is the GAF Roofs for Troops Rebate?
In order to thank our troops for their commitment and the many sacrifices they make for our country, GAF instituted the Roofs for Troops rebate program. This entitles military personnel to a $250 rebate on GAF Lifetime Roofing Systems installed between January 1, 2016, and December 31, 2016. A GAF roofing system consists of GAF Lifetime shingles and at least three qualifying GAF accessories. Keep in mind that the Lifetime Roofing System and corresponding accessories must be installed by a GAF Master Elite® or Certified™ Contractor like Muth and Company Roofing in order for the homeowner to be eligible for the rebate.
Who is Eligible?
The Roofs for Troops rebate applies to active members of the U.S. military, as well as U.S. military veterans and retirees.
What Are the Qualifying Accessories?
At least three of the following accessories, when used in accordance with GAF's Lifetime shingles, will qualify a roof for the Roofs for Troops rebate:
Ridge Cap Shingles
Cobra® Attic Ventilation
Leak Barriers
Roof Deck Protection
Starter Strip Shingles
How Do I Apply?
To apply for the Roofs for Troop's rebate, military members first need to complete the online rebate claim form. When finished, a printed rebate confirmation needs to be mailed with the following within eight weeks of the installation date:
Proof of military service.
The Contractor's Invoice for your GAF Lifetime Roofing System and qualifying accessories–the name on the invoice must match the name on the rebate form
One of the following: 1) The UPC from the Lifetime shingles and accessories listed on your invoice; 2) Your System Plus or Golden Pledge Warranty number; or 3) The distributor invoice for your GAF Lifetime Roofing System and qualifying accessories.
If you have questions about the 2016 Terms and Conditions or would like to find out more about this program, please contact Muth and Company Roofing of Columbus, OH, at (614) 682-3060, and we will do our best to help you find the information you need. We look forward to completing your roofing in Gahanna, OH, or surrounding areas.
Muth & Company Roofing is a certified Master Elite Contractor through GAF servicing Columbus, Ohio and the surrounding area including Westerville, Delaware, Worthington, Dublin, Bexley, Gahanna, New Albany, and nearby communities. Muth & Company provides roofing installation services, as well as gutter installation, gutter replacement, gutter repair, attic insulation, skylight installation, and roof repair. We're proud to offer metal roofing installation and metal roof financing services.
We use quality, feature-rich products including GAF American Harvest Shingles as well as the full GAF roofing system to deliver superior protection and warranties. If you're in need of an experienced, trusted roofing or gutter company in the Columbus, Ohio region, don't hesitate to call Muth & Company for a free estimate at (614) 682-3060 today!