The benefits of an attic ventilation inspection can help identify opportunities to help you save money on your energy bills.
When your rooms are stuffy or humid, you can tell you lack ventilation. In these cases, you can open the window or turn on the ceiling fan and your problem is fixed.
Lack of attic ventilation can be elusive when it's located in the attic. After all, you rarely go up there. And when you do, it's usually only for a short time. But when you leave, problems persist.
Effects of poor attic ventilation include:
Structural damage of floors/walls/joists
Increased ice damming on your roof
Mold and rust from excess moisture
Lowered energy efficiency
If your attic isn't properly insulated and ventilated, the amount you will spend on heating and cooling will be much higher.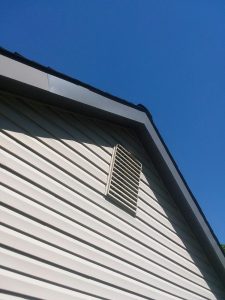 On a hot 90-degree summer day, the temperature of an improperly ventilated attic can peak at 160 degrees. That heat continually radiates down into your home. This will make your air conditioner work harder in the summer.
Hot, moist air will also prematurely age roofing materials. How? Condensation will form in the attic. This will lead to mold and mildew growth.
If you think your attic is a problem area, call the Columbus, Ohio professionals, Muth and Company Roofing, for an energy efficiency inspection.
An energy efficiency inspection from Muth and Company Roofing service includes the following:
Calculating the R-value of your existing attic insulation.
Examining the exhaust and intake attic ventilation system.
Inspecting exhaust and intake vents for obstructions.
Checking all other fans and vents to make sure they are working properly.
Ensuring gable vents are properly screened or closed off.
Inspecting ceiling can lights for proper protection in the attic.
After the attic ventilation inspection, our Muth and Company Roofing team will present you with a complete report.
This will include recommendations for improvements that will help your home stay cooler in summer, warmer in winter and extend the life of your roof.
Start saving on monthly energy costs. Call the Columbus, OH roofing professionals Muth and Company today at (614) 882-0900 to schedule your complete attic efficiency inspection. We're the Columbus, OH roofing contractors homeowners and business owners have trusted since 1992.