From thunderstorms and threats of tornadoes to hail storms and heat waves, severe weather in Columbus, Ohio takes many different forms in the summer months.
It's important that you know what to expect and adapt precautionary measures so that you will be able to protect yourself, your family and your property.
Take time to familiarize yourself with the important weather terms. From this list provided the National Weather Service, here are terms to be familiar with: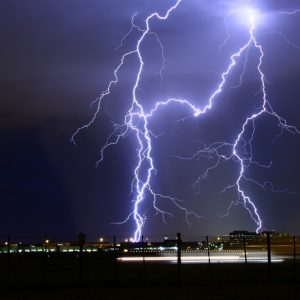 Severe Thunderstorm Warning – A severe thunderstorm warning is issued when large hail or damaging wind is actually occurring or imminent. Severe thunderstorms can produce tornadoes with little or no advance warning. Severe thunderstorms will also produce frequent and dangerous lightning.
Tornado Warning – A tornado warning is issued if a cloud rotation has been spotted or when a tornado is imminent or occurring. This includes when a tornado is indicated by Doppler radar or sighted by spotters.
Your roof receives the brunt of the damage that storms inflict upon your home. Before things get worse, it's best that you get in touch with a professional contractor for roof repair.
Depending on what your roof needs, you may be looking at either a roof repair or replacement. Both of which will cost you money. To help you cut back on costs or maybe even avoid repairs altogether, the Columbus, Ohio roofing specialists at Muth & Co. Roofing recommend regular roof inspections and maintenance, like Mr. Moose's Roof Maintenance Plan.
We do routine maintenance on both residential and commercial properties of all shapes and sizes. Our Columbus, Ohio roofers are highly-skilled and factory-trained. You can trust that your roof will be in good hands.
Give Muth & Co. Roofing a call to find out more about the maintenance program at 614-882-0900.
Muth & Company Roofing is a certified Master Elite Contractor through GAF servicing Columbus, Ohio and the surrounding area including Westerville, Delaware, Worthington, Dublin, Bexley, Gahanna, New Albany, and nearby communities. Muth & Company provides roofing installation services, as well as gutter installation, gutter replacement, gutter repair, attic insulation, skylight installation, and roof repair. We're proud to offer metal roofing installation and metal roof financing services.
We use quality, feature-rich products including GAF American Harvest Shingles as well as the full GAF roofing system to deliver superior protection and warranties. If you're in need of an experienced, trusted roofing or gutter company in the Columbus, Ohio region, don't hesitate to call Muth & Company for a free estimate at (614) 682-3060 today!