A roof is a lot more than shingles.  DIY roofing is more dangerous than you might think.
Many Columbus Ohio homeowners think that installing a new roof is nothing more than just nailing up some shingles. A properly installed roof is a complex system of components working together to keep water outside of your home.
Local roofing companies, like Muth and Company Roofing, spend years learning their trade. Their GAF Certified roofers train for long hours to learn how to properly handle and install roofing system materials. They identify risks, keep themselves safe, and follow mandatory building regulations.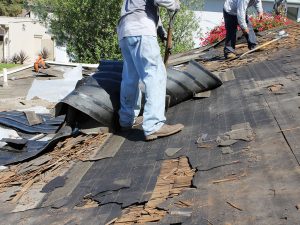 In addition to training, roofing involves a great deal of physical labor, especially if you plan to tear off your existing roof before installing the new one. If you're not comfortable walking on a roof or carrying heavy objects up a ladder, you should think twice about taking on a roofing job.
It's also important to have the correct tools and safety equipment and to know how to use them properly. Disregarding any of these steps could result in serious problems or even injury.
If DIY roofing seems daunting, and more dangerous than you thought, it's better to hire a local roofing company like Muth and Company Roofing. As a family business, we take great pride and pleasure in helping other families to protect their homes, property, and loved ones. We know how important it is that you have confidence in the roof over your head, and we go above and beyond to deliver a quality roofing system, the first time, every time!
We're the Columbus, Ohio, roofing contractors who want to earn your business. Call Muth & Company Roofing today at (614) 882-0900 for a FREE estimate on Columbus roof repair or Columbus roof replacement.
Muth & Company Roofing is a certified Master Elite Contractor through GAF servicing Columbus, Ohio and the surrounding area including Westerville, Delaware, Worthington, Dublin, Bexley, Gahanna, New Albany, and nearby communities. Muth & Company provides roofing installation services, as well as gutter installation, gutter replacement, gutter repair, attic insulation, skylight installation, and roof repair. We're proud to offer metal roofing installation and metal roof financing services.
We use quality, feature-rich products including GAF American Harvest Shingles as well as the full GAF roofing system to deliver superior protection and warranties. If you're in need of an experienced, trusted roofing or gutter company in the Columbus, Ohio region, don't hesitate to call Muth & Company for a free estimate at (614) 682-3060 today!