In honor of our commitment to "Give Where You Live," this holiday season Muth & Company Roofing is highlighting local groups that are changing lives in and around Columbus. This week we feature Franklinton Rising (FR), a Christian non-profit that helps at-risk youth to break free from the cycle of generational poverty and to grow lives, families and communities that thrive.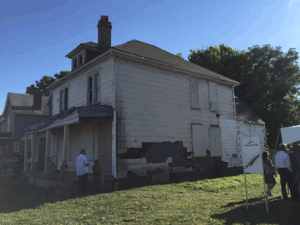 5 Steps to Hope
Franklinton Rising focuses on the Franklinton area of Columbus – the oldest and poorest neighborhood in Central Ohio – and nearby inner-city neighborhoods. The group was founded in early 2015 with a five-fold mission.
FR acquires abandoned houses and raises funds to renovate them. Using experienced local contractors, at-risk youth are trained in a classroom setting and on-the-job to perform the construction renovations. In exchange, FR trainees gain valuable exposure to a variety of construction trades.
In addition to receiving hands-on training from construction professionals, youth also develop healthy mentoring relationships that serve as an anchor to guide them through the difficult transition from teen to adult. Trainees may remain in the program for varying lengths of time, depending on their age and progress.
FR is no free ride. Trainees are offered a path out of poverty, but they have to want it and work for it. They are expected to invest in themselves by spending time in the classroom. Later, they are paid for the time they spend working on renovation projects.
FR graduates are actively marketed within the industry for full-time employment or additional apprenticeships. With the opportunity for stable employment with benefits, they are positioned to become contributing members of the community.
Renovated houses are rented to FR graduates or others committed to building up the community. Over the long term, the goal is to convert these renters into buyers.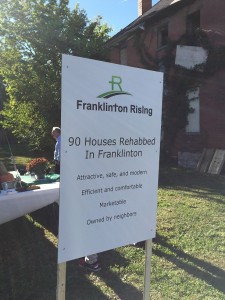 Muth & Company Roofing is thrilled to be a partner with Franklinton Rising. Our Columbus, Ohio, roofing contractors have spent time on the job site with FR trainees, teaching them the ins and outs of how to properly install roofing, gutters and more. "I love the idea and concept of Franklinton Rising," says Chad Muth, president of Muth & Company Roofing. We need more young people to realize that construction is an awesome industry with unlimited potential to anyone who is interested in working in it."
"There are an abundance of great jobs in the remodeling and new construction industry. This program is in its very early stage so it's hard to know how it will ultimately effect Muth or the industry, but so far we have already seen a positive effect on our employees who have worked with these students."
To learn more about this exciting organization, visit www.franklintonrising.org or email theffner@franklintonrising.org​​.
Muth & Company Roofing is a certified Master Elite Contractor through GAF servicing Columbus, Ohio and the surrounding area including Westerville, Delaware, Worthington, Dublin, Bexley, Gahanna, New Albany, and nearby communities. Muth & Company provides roofing installation services, as well as gutter installation, gutter replacement, gutter repair, attic insulation, skylight installation, and roof repair. We're proud to offer metal roofing installation and metal roof financing services.
We use quality, feature-rich products including GAF American Harvest Shingles as well as the full GAF roofing system to deliver superior protection and warranties. If you're in need of an experienced, trusted roofing or gutter company in the Columbus, Ohio region, don't hesitate to call Muth & Company for a free estimate at (614) 682-3060 today!