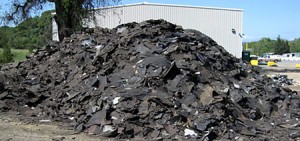 This time of year is hopping for roofing contractors in Columbus! Here at Muth & Co., we're busy not only putting roofs on but tearing them off too. All of that old roofing material adds up fast, but we know just what to do with it: recycle! We've made a commitment to keep asphalt shingles and other roofing materials out of our local landfills, so that they can get a second life as other useful materials.
Most Columbus-area roofers dump used shingles off at the landfill and then it's on to the next job. That's how more than 11 million TONS of asphalt shingles enter U.S. landfills every year. When Muth & Co. replaces an asphalt roof, we take the used shingles to a recycling center in Williamsport. We're willing to go that extra mile – or more accurately, an extra 50 miles – for the sake of the environment. Once the shingles have been processed, the material can be repurposed for projects that require strength and durability, like paving roads. We also recycle metal components such as old aluminum gutters.
To date in 2013, Muth & Company has recycled 286 tons of asphalt shingles! Our efforts to recycle shingles have earned us the exclusive Certified Green Roofer designation from GAF. Join with us in this effort – if you need a new roof, call Muth & Co. at (614) 882-0900, and we'll make sure your old shingles get a new life!