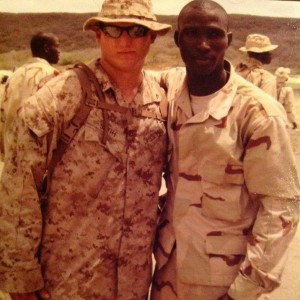 Whether it's working on your home, fighting a fire or a complex military operation, Grant Smith is just the type of guy you want to have your back. He's a very hard worker who describes himself as "taking pride in everything I do." Grant works as a Field Technician for Muth and Company, doing repairs, maintenance, inspections, gutters and insulation. "Grant is a rock in the field," says Chad Muth, president of Muth and Company. "He's dependable and courteous, and he works every day to be the best he can be for his fellow employees and our customers. It's nice knowing he is representing Muth & Co. so positively."
This Columbus native has also devoted the past five years to the United States Marine Corps, currently serving as a Lance Corporal in the 0311 Infantry. As an Automatic Rifleman, his job is sobering: "Locate close with and destroy the enemy by fire and movement, or repel the enemy's assault by fire and close combat." To date, he's served in Parris Island, SC; Camp Lejeune, NC; and Western Africa and Operation W.A.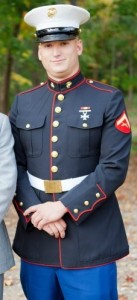 "Military service gave me discipline and structure and taught me how to adapt and overcome obstacles, as well as the core values of Honor, Courage and Commitment," explains Grant. He also studied firefighting at the Ohio Fire Academy, and works part-time as a firefighter. He takes pride in helping others as a Marine and firefighter, and in the future would like to become a Marine Corps Scout Sniper. He jokes that he is least proud of "backing into John Righter's truck."
Grant comes from a family of athletes. At Olentangy High School, he was an all-conference lacrosse player, and an all-state linebacker at Hargrave Military Academy in Virginia. Later he played fullback for the Malone University football team in Canton. His younger brother, Ross, also plays football for the University of Dayton. His younger sister, Grace, will be playing lacrosse at St. Francis University. In his spare time, Grant enjoys shooting in archery tournaments, cheering on the Cincinnati Bengals, and would love to go moose hunting in Alaska. His favorite shows include Fast N' Loud, Duck Dynasty and The Walking Dead. He's currently single, but enjoys hanging out with his buddy, a Rottweiler mix named Hans.
Grant believes Muth and Company stands out from other roofing companies in Columbus because of the team's commitment to customer service and quality, and it's his team members that are his favorite part of the job. "Work is much easier when you're surrounded by good people," he says.
Muth & Company Roofing is a certified Master Elite Contractor through GAF servicing Columbus, Ohio and the surrounding area including Westerville, Delaware, Worthington, Dublin, Bexley, Gahanna, New Albany, and nearby communities. Muth & Company provides roofing installation services, as well as gutter installation, gutter replacement, gutter repair, attic insulation, skylight installation, and roof repair. We're proud to offer metal roofing installation and metal roof financing services.
We use quality, feature-rich products including GAF American Harvest Shingles as well as the full GAF roofing system to deliver superior protection and warranties. If you're in need of an experienced, trusted roofing or gutter company in the Columbus, Ohio region, don't hesitate to call Muth & Company for a free estimate at (614) 682-3060 today!