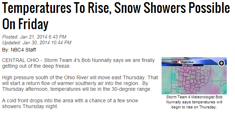 The blast of cold temperatures that has kept much of the East Coast frozen stiff throughout January has finally given way for warmer days ahead. An NBC4 article published January 21, 2014 provides an outlook for the weather in Central Ohio.
CENTRAL OHIO -Storm Team 4's Bob Nunnally says we are finally getting out of the deep freeze.
High pressure south of the Ohio River will move east Thursday. That will start a return flow of warmer southerly air into the region. By Thursday afternoon, temperatures will be in the 30-degree range.
A cold front drops into the area with a chance of a few snow showers Thursday night.
Temperatures will continue to rise Saturday as the same front creeps northward as a warm front drawing more moisture into the Buckeye State.
Despite the welcome change in weather, there will still be a few snow showers in the coming days. It can still put a lot of Delaware, OH roofing systems at risk. To avoid any possibility of sustained damage to your roof, it is imperative that you take proactive measures.
First, insulate your attic. Doing so prevents heat from escaping into the attic, which can trigger and promote ice dam formations. It is also imperative that you rake snow off your roof to deny ice dams of the right conditions for formation.
If your roofing system has taken too much damage, however, it is important that you call a reliable contractor that efficiently services Delaware or Dublin, OH roofing. A lot of these services can efficiently work through the winter, making them a godsend to roofing systems who cannot wait for spring.
A roof plagued with ice dams must be dealt with immediately to avoid future concerns. Concerned homeowners should contact contractors like Muth & Company Roofing to get things started.
(Article Excerpt and Image from More Snow For Central Ohio – After Midnight, NBC4, January 21, 2014)