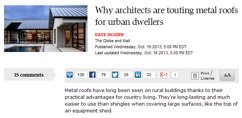 Metal roofs are the embodiment of balance among other roofing materials. They offer a balance of durability and cost, making them a widely-used product in homes and buildings everywhere. Their shortcomings in one attribute, like any other roofing material, can be compensated by an advantage in another attribute. Just ask any Gahanna, Ohio roof repair expert.
In recent months, architects have hailed metal roofs as a trendy choice for the modern urban home. An article by The Globe and Mail dated October 16, 2013 discusses the prospect of metal roofs in a more efficient home:
Metal roofs are often touted as the environmentally friendly choice, and for good reason: They typically last 50 years or more, double the lifespan of asphalt shingles, and are made from mostly recyclable materials, whereas asphalt shingles wind up in a landfill.
[…]
Growing numbers of people are opting for metal roofs not only because of their green-friendly cred, but because the material has evolved stylistically, says Steve Fox, general manager of the Canadian Sheet Steel Building Institute, a Cambridge, Ont.-based industry association.
The article discussed two of the greatest advantages of metal roofing: durability and looks. Metal roofs can endure weather extremes better while maintaining style. Its durability prevents the frequency of Gahanna or Dublin, OH roof repair.
Metal roofs can now also be made to look like shingles. Shingle-style roofing can be made to look like Spanish tile, wood shakes, or slate. Metal roofing formed this way can do nothing but boost the curb appeal of the home.
Metal roofing promises nothing but the best for homes who will try them out. Households interested in getting metal roofing should contact reliable services like Muth & Company Roofing to get the ball rolling.
(Article Excerpt and Image from Why architects are touting metal roofs for urban dwellers, The Globe and Mail, October 16, 2013)