It's more than just a luxurious addition to a home. Skylights are home improvement solutions that bring aesthetic and environmental benefits. When added, they can provide your home with the warmth of daylight and a fantastic view of the night sky. They can also make your home more energy-efficient with the presence of natural light.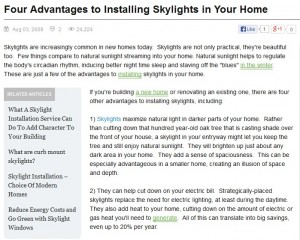 Installing skylights may require the expertise of a trusted Delaware OH roofing company. Nevertheless, there are significant benefits to be acquired from this home fixture, according to a writeup on skylights from Articlesbase:
Skylights maximize natural light in darker parts of your home. Rather than cutting
down that hundred year-old oak tree that is casting shade over the front of your
house, a skylight in your entryway might let you keep the tree and still enjoy natural
sunlight. They add a sense of spaciousness. This can be especially advantageous in a smaller home, creating an illusion of space and depth.
Skylights are "green" features which maximizes the use of natural light inside homes, thus benefiting dwellers with their daily supply of Vitamin D. Sunlight also improves health by maintaining brain activity, reducing the risk of chronic ailments and stabilizing the internal clock to help those suffering from sleep problems. Moreover, natural light can improve one's mood and assist in battling depression because bright rooms, essentially, are infused with energy.
Skylights contribute positively to the environment, as well:
Since you're saving electricity, you're helping to preserve the environment. Even if
you can't afford all of the latest innovations in green home technology, skylights are
still relatively affordable, especially when you consider the energy cost savings they
can produce. Plus, you can feel good about helping to reduce your carbon footprint.
A company known for roofing in Dublin OH or Delaware like Muth & Company Roofing offers skylights that come in energy-efficient glass packages for home insulation, a perfect solution against the varying temperatures of the seasons. During wintertime, for example, skylights can help reduce the cost of fuel which is used for home heating. Electricity usage can also be reduced since the transmission of natural light can already brighten a dark room.
(Article Excerpt and Image from Four Advantages to Installing Skylights in Your Home, Articlesbase, Aug 3, 2008)