GAF is proud to offer StainGuard Plus™ Time-Release technology. In Columbus, Ohio, your local GAF Certified roofing company is Muth and Company Roofing.
Blue-green algae is on more than 80% of the U.S., including the Columbus, Ohio area. You will see dark black stains on roofs wherever it grows, making millions of perfectly good roofs look old before their time.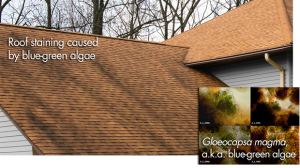 Many traditional algae-resistant shingles use a granule technology developed more than a quarter century ago. The granules contain a layer of algae-fighting copper.
As a roof ages, those older granules release less and less copper, which reduces the shingle's algae resistance over the life of your roof.
StainGuard Plus™ Time-Release technology from GAF releases algae-fighting copper more efficiently for long-lasting algae-fighting power. It's algae resistance is so powerful, GAF offers a 25-year limited warranty against blue-green algae discoloration.
StainGuard Plus™ technology uses specially engineered capsules. The capsules are infused throughout with thousands of copper microsites. The copper remains within reach, ready to be activated, fighting blue-green algae stains.
Muth & Company is among an elite group of certified GAF Master Elite® roofing contractors, representing only 3% of all roofing companies in North America.
Call Muth and Company Roofing, a local roofing company that Columbus Ohio trusts, at 614-882-0900. The call is free, is so is the estimate.
Muth & Company Roofing is a certified Master Elite Contractor through GAF servicing Columbus, Ohio and the surrounding area including Westerville, Delaware, Worthington, Dublin, Bexley, Gahanna, New Albany, and nearby communities. Muth & Company provides roofing installation services, as well as gutter installation, gutter replacement, gutter repair, attic insulation, skylight installation, and roof repair. We're proud to offer metal roofing installation and metal roof financing services.
We use quality, feature-rich products including GAF American Harvest Shingles as well as the full GAF roofing system to deliver superior protection and warranties. If you're in need of an experienced, trusted roofing or gutter company in the Columbus, Ohio region, don't hesitate to call Muth & Company for a free estimate at (614) 682-3060 today!