When the leaves begin to fall, it's gutter cleaning time.
Those leaves that looked so pretty on the trees all summer long are now a hazard to your roof and gutters. Leaves and debris fall on your roof, ending up in your gutters where they get saturated in rain and snow, becoming HEAVY.
This extra weight can cause gutters to pull away from the supportive fascia board. The leaves and debris can also clog the gutters.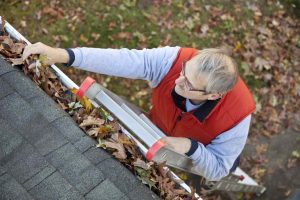 If left uncleared, water will run over the front and back of the gutters causing rotting and potential foundation issues. As temperatures drop, excess water and snow can freeze in clogged gutters and ice damming can occur. This dangerous condition can cause moisture to leak into the soffits and you can end up with those dreaded leaks inside your house.
An Ounce of Prevention
Don't let it get that far! Preventative maintenance can virtually eliminate gutter issues before they cause permanent damage. Gutter cleaning is a hassle. Let Muth & Company, the gutter contractor specialists, take this unpleasant and potentially dangerous chore off your to-do list. We offer a gutter cleaning program and a comprehensive roof maintenance program that includes gutter cleaning and regular roof inspections.
We had all our gutters replaced on our 2 story home with gutter guards. Excellent job by Muth & Co. – the gutters look great and no more hiring of annual cleaning of gutters!  Clyde P., satisfied Muth customer!
Call today to talk with a member of Muth and Company Roofing's friendly and knowledgeable staff about your roof and gutter repair and gutter maintenance needs! 614-882-0900.
Muth & Company Roofing is a certified Master Elite Contractor through GAF servicing Columbus, Ohio and the surrounding area including Westerville, Delaware, Worthington, Dublin, Bexley, Gahanna, New Albany, and nearby communities. Muth & Company provides roofing installation services, as well as gutter installation, gutter replacement, gutter repair, attic insulation, skylight installation, and roof repair. We're proud to offer metal roofing installation and metal roof financing services.
We use quality, feature-rich products including GAF American Harvest Shingles as well as the full GAF roofing system to deliver superior protection and warranties. If you're in need of an experienced, trusted roofing or gutter company in the Columbus, Ohio region, don't hesitate to call Muth & Company for a free estimate at (614) 682-3060 today!