As summer progresses and the weather continues to heat up, more and more people look forward to spending their free time playing in the water and basking in the sun at the pool or on the lake. Here at Muth & Company Roofing, we care about our community, and would like to share the following summer water safety tips to help our customers enjoy a safe and fun summer.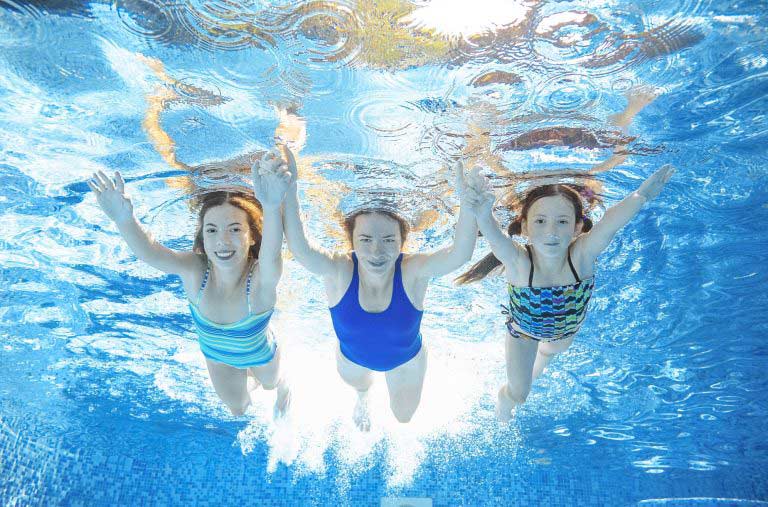 General Water Safety
Never leave children unsupervised near or in water for any length of time, no matter how brief.
An adult should remain near enough to touch beginning swimmers and young children at all times. Ideally, adults supervising children swimming should be trained in CPR and know how to swim.
Use the buddy system when swimming; even adults and experienced swimmers should have a swimming buddy.
Safety at the Pool
If you plan on having a pool at your home, install a sturdy fence at least four feet high all the way around the pool. This goes for inflatable above-ground pools as well. Empty smaller wading pools when you are done with them.
Use a self-closing, self-latching pool gate with the latch at a height that small children can't reach, and consider installing an alarm on it.
Enroll children in swimming lessons at a young age, where they can learn the basics of swimming and water safety.
Boating and Open Water Safety
Children should always wear well-fitted, Coast Guard-approved life jackets on boats and docks and near open water.
Boat operators and passengers should educate themselves on the potential dangers of boating under the influence of drugs, alcohol, or prescription medications.
Only dive in areas where the water has been checked for depth and underwater obstacles by a responsible adult.
As at pools, never swim alone in open water. Lake swimming should only be done if there is a lifeguard present.
If your house is starting to resemble a pool when it rains due to a leaky roof, give Muth & Company a call at (614) 682-3060. A quick consultation with our experienced roofers will let you know if you need to schedule a roof repair or a full roof replacement.
Muth & Company Roofing is a certified Master Elite Contractor through GAF servicing Columbus, Ohio and the surrounding area including Westerville, Delaware, Worthington, Dublin, Bexley, Gahanna, New Albany, and nearby communities. Muth & Company provides roofing installation services, as well as gutter installation, gutter replacement, gutter repair, attic insulation, skylight installation, and roof repair. We're proud to offer metal roofing installation and metal roof financing services.
We use quality, feature-rich products including GAF American Harvest Shingles as well as the full GAF roofing system to deliver superior protection and warranties. If you're in need of an experienced, trusted roofing or gutter company in the Columbus, Ohio region, don't hesitate to call Muth & Company for a free estimate at (614) 682-3060 today!