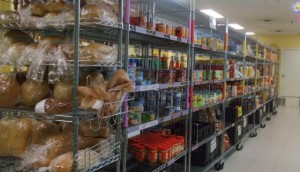 Today we'd like to highlight the inspired work of Westerville Area Resource Ministry (WARM), one of the local non-profits featured in our holiday "Give Where You Live" fundraiser. Originally founded in 1972 by volunteers from St. Paul's Catholic Church, WARM now encompasses the efforts of several other local churches to provide assistance to individuals in the Westerville area who are living at 200% or below the federal poverty guidelines.
"WARM is a client-choice food pantry and jobs assistance agency," says Lauren Stauffenger of the group's Development & Communications department. "That means our clients shop through the pantry and make selections based on family preferences and diets. Each client meets with a representative who works with them on job and life skills to join them on the journey towards a life of God-reliant self-sufficiency." WARM emphasizes that it is a hand-up – not a hand-out – to all residents within the 52 square miles of the Westerville City School District. This includes over 88,000 people!
Currently, WARM's most pressing need is a space to grow. "There has been a gradually increasing influx of neighbors in need, and the search for funding to be able to continue providing resources is top of mind," says Stauffenger.
In addition to their long-term goal of gaining a larger space, current donations will ensure that every family in Westerville has a happy and blessed holiday season. To learn more, visit www.warmwesterville.org. Thank you, everyone at WARM, for making a difference in our community!
Click here to visit Muth's Facebook page and vote for WARM on the contest page. Each vote equals $1 that we will donate to WARM or your organization of choice. The winning group (humans or animals) will split an additional minimum donation of $500 from Muth & Company!