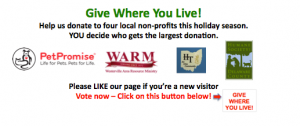 At Muth & Company, helping local non-profits is a cause that's close to our hearts. "Giving where you live" helps local individuals, local families, local animals, local volunteers, local businesses and the local economy. In short, it makes our community a better place for each of us to live and work!
Now through Dec. 13th, 2013, we are conducting a new Facebook "like" campaign to benefit several area non-profits that do tremendous good for the greater Columbus community.
Giving is always fun, but to make this campaign even more exciting YOU get to decide which groups will get the largest donation! Will it be the animals or the humans? Click here to visit our Facebook page and vote for your favorite group on our contest page. New visitors must first "like" our page to vote. Each vote equals $1 that we will donate to animals or humans (up to 2,000 votes or $2,000), with the final amount divided between the two non-profits in each group (Helping Hands and WARM for humans, Humane Society and PetPromise for animals). The winning group will split an additional minimum donation of $500 from Muth & Company!
This contest is open to everyone, even if you've already liked the Muth & Co. Facebook page. If you have, share the news with your friends. If not, like our page and join the fun! Together, let's all "give where we live"!