Disasters like storms and hurricanes bring out the best and worst of humankind. There will always be people who will open their hearts, their wallets, and their homes to welcome those who have been hit by misfortune, such as those whose homes have been severely ripped by nature's act. There will also be those who will take advantage of people's loss. In times like these, be vigilant about scammers, and this caution extends to those occasions when you seek out roof repair by Gahanna, Ohio contractors, or elsewhere.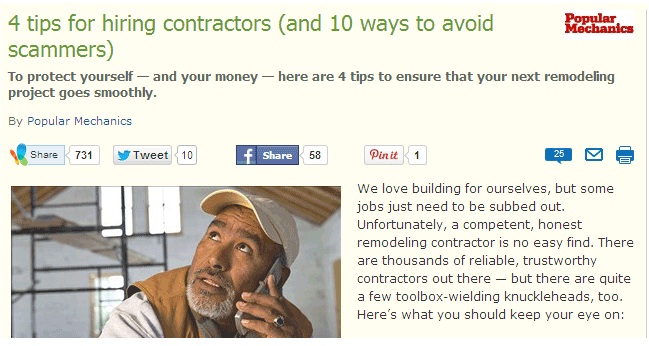 Realestate.msn.com list four tips to hiring roofing contractors to prevent homeowners from having to deal with fraud contractors. The first tip is to recognize sleazy or shady tactics employed by some contractors. The article suggests that you avoid a contractor that "provides credentials or references that can't be verified"
It also recommends to check on the different construction works that your potential contractor has worked on. "When you meet with contractors, ask each to bring photos or drawings of completed jobs that are similar to yours. When possible, ask to visit a completed project. Get in touch with the homeowners involved…" the article suggests.
When you've chosen a contractor, understand the fine print and the essential points in your contract. Your written contract should include all the crucial elements you and your contractor have discussed and agreed upon. "Once the job is under way, make sure the necessary building permits are on display." The article further advices: "When advancing money for materials, ask the contractor if you can pay the supplier directly. Always pay with a check, never by cash."
One of the most important things a homeowner can do is research. Although there may be dozens of roofing companies out there, only a few can be trusted. Don't get yourself overwhelmed by too much information. Also, don't be pressured into making a decision right away as bad choices can sometimes lead to a long-term regrets and expensive overhauls.
Homeowners should never hire a roofer who isn't licensed or certified. Licensed roofers are obliged to follow the regulations in the law and the guidelines exist for your benefit. Roof repair from Dublin, Ohio contractors like Muth & Company Roofing can ensure homeowners that these companies have the approval and recognition of the industry for their years of quality work and service.
Muth & Company Roofing is a certified Master Elite Contractor through GAF servicing Columbus, Ohio and the surrounding area including Westerville, Delaware, Worthington, Dublin, Bexley, Gahanna, New Albany, and nearby communities. Muth & Company provides roofing installation services, as well as gutter installation, gutter replacement, gutter repair, attic insulation, skylight installation, and roof repair. We're proud to offer metal roofing installation and metal roof financing services.
We use quality, feature-rich products including GAF American Harvest Shingles as well as the full GAF roofing system to deliver superior protection and warranties. If you're in need of an experienced, trusted roofing or gutter company in the Columbus, Ohio region, don't hesitate to call Muth & Company for a free estimate at (614) 682-3060 today!