In days past, people associate metal roofing with noise, the constant barrage of rainfall on the roof on an especially stormy day. With recent roofing technology, metal roofing has all but resolved that old notion and has become, in fact, one of the most versatile of roofing materials. In color, style, and performance, metal is the preferred roofing in Delaware, OH because it does not require strenuous maintenance, and hardly rusts as it used to. Just ask any of your dependable roofing contractors, such as Muth & Company Roofing, who will offer you the benefits of this highly functional and currently stylish roofing material.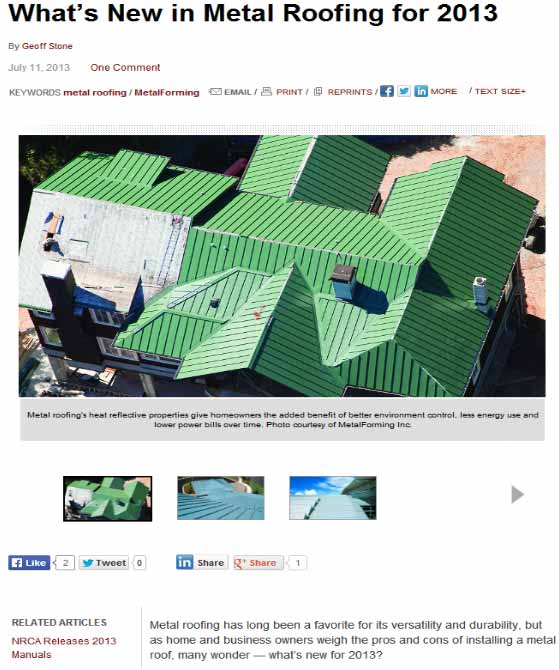 Geoff Stone, in an article he wrote for roofingcontractor.com discusses the latest on metal roofing technology in 2013. It describes the material as more energy efficient than ever since its heat reflective properties provide homeowners with options for environmental commitment, as well as reduced power consumption and lower energy bills. "One draw we're seeing toward metal roofing comes in the form of tax credits and ever-increasing environmental awareness," the article stated.
Metal roofing also has a variety of styles and colors to choose from than ever before, and its benefits are made more versatile compared to metal roofing's one-size-fits all style of yesterday. As reported in the article, metal roofing are now designed to look like other traditional materials.
There are metal roofing cut as "metal shingle and slate; metal tiles in different textures and colors; metal shake; panels made from various types of metal; as well as natural metal roofs…"
For any range of homes and businesses, metal roofs can be customized to fit and complement your home's existing style."
A metal roof will no longer have that deafening patter on your roof when the rain hits. The modifications in attic airspace and ventilation will also help absorb and mute the sound. For better sound insulation, homeowners can also install an optional foam which can be inserted behind the metal shingles.
Because of these added benefits, more homeowners are investing in highly stylish yet durable and all-around metal roofing. If you don't want to worry about your roofing in Gahanna, OH or in any locale even with excessive rainfall yearly, you can't worry much if you go for metal. It's a good choice for resale value alone, not to mention its vaunted reinforced qualities of strength, durability, and versatility.