Wow, what a day at Bent Tree Golf Club during the 2023 Tee-Off 4 Camps!
Families and the great outdoors have always been close to our hearts here at Muth & Company Roofing. Three years ago, we started raising money to send kids to camp in the summer. In 2023, we are going bigger and better than ever with a golf outing cool enough for Mr. Moose to make an appearance.
Players had a blast supporting these camps with a live DJ, sponsorship activities, 50/50 raffles, and a banquet, plus exciting live and silent auctions.
Thank You so much for your participation and sponsorship of our first Give Where You Live, Tee-Off 4 Camps golf outing!
We encourage you to share, save and download your favorite shots from our photo gallery!
Don't forget to tag us in your photos as well, we can't wait to see. @muth.roofing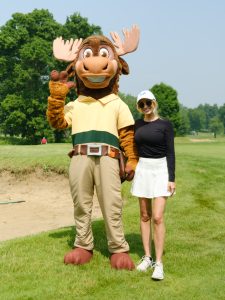 Thanks to you we can "drive" home a great experience at camp. Because of your support, we raised over $22,000!
Charities We Support with Tee-Off 4 Camps!
As you know, these proceeds are going directly to our three partner non-profits:
Your generosity will make a HUGE impact on these organizations, as they "putt" together camps and programs. With your generous contributions, we will be sending over 20 kids and veterans to camp this year! All thanks to you.
And this is just the beginning. We are already planning next year's event. We'll let you know the details as soon as we have firmed them up.
Thanks again. We couldn't have done it without you.