Severe weather often meets the onset of spring in Ohio, which makes it necessary that you know what's going on in your home. There might be problems going unnoticed, which could lead to costlier repairs. As a precaution, roofing companies in Columbus, Ohio advise conducting an initial roof inspection.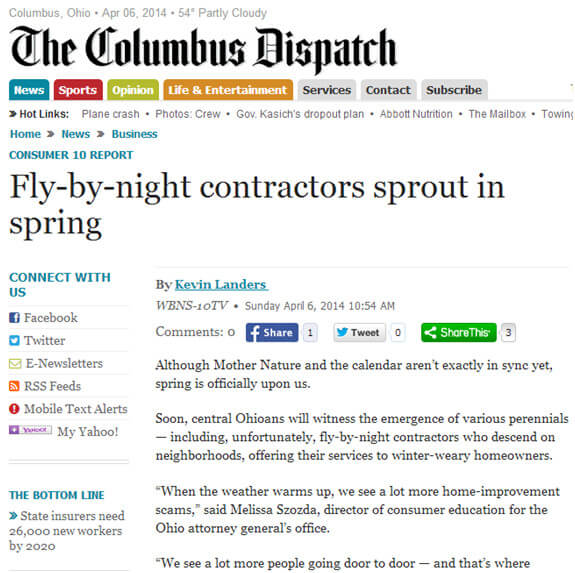 One of the things you should pay attention to is the condition of your roof shingles. Check if some have already buckled, curled, or blistered. As durable as roofing materials should be, these still have a life expectancy. When you see these signs on the shingles, it's time to contact Muth & Company Roofing, a company based in Columbus.
If you have a chimney, you might want to check it for loose materials and signs of wear. Take a look at the gutters too, as there might be a lot of granules that weigh them down. With the springtime showers just around the corner, you should make sure that your roof is in perfect working condition.
When repairs or replacements are deemed to be necessary, do your research before hiring someone to fix your roofing in Columbus, Ohio. Trust companies that have established a good reputation in the area. The Columbus Dispatch has published a report warning homeowners about springtime scams from bogus contractors:
Soon, central Ohioans will witness the emergence of various perennials — including, unfortunately, fly-by-night contractors who descend on neighborhoods, offering their services to winter-weary homeowners.

"When the weather warms up, we see a lot more home-improvement scams," said Melissa Szozda, director of consumer education for the Ohio attorney general's office.
Even the law enforcers in Ohio are on the lookout against these scammers. To further quote the report:
At least two area law-enforcement agencies — the Genoa Township and New Albany police departments — already have issued seasonal alerts urging residents to be on the lookout for unscrupulous contractors, as well as would-be burglars masquerading as service providers.
Make sure to conduct background checks before you hire anyone. A working license is a must, along with other credentials that will prove reliability. If there's even a small morsel of doubt, walk away and seek out reliable names in the industry like Muth & Company Roofing.
(Article excerpt from Fly-by-night contractors sprout in spring, www.dispatch.com, April 6, 2014)
Muth & Company Roofing is a certified Master Elite Contractor through GAF servicing Columbus, Ohio and the surrounding area including Westerville, Delaware, Worthington, Dublin, Bexley, Gahanna, New Albany, and nearby communities. Muth & Company provides roofing installation services, as well as gutter installation, gutter replacement, gutter repair, attic insulation, skylight installation, and roof repair. We're proud to offer metal roofing installation and metal roof financing services.
We use quality, feature-rich products including GAF American Harvest Shingles as well as the full GAF roofing system to deliver superior protection and warranties. If you're in need of an experienced, trusted roofing or gutter company in the Columbus, Ohio region, don't hesitate to call Muth & Company for a free estimate at (614) 682-3060 today!