It's a good idea to inspect your roof for damage regularly. Here are some tips on how to inspect your roof for damage, particularly if you live in areas like Columbus, Ohio, that experience extreme weather.
You can inspect your roof yourself by either climbing on your roof or by using binoculars from the ground.
If you choose to go up on the roof yourself, remember to always utilize proper safety equipment to prevent falls or injury.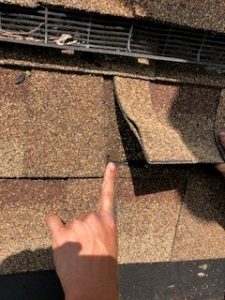 Here are some important things to look for:
Check flashing for damage or inadequate coverage
Damage under eaves and overhangs
Missing, cracked, curled, torn or warped shingles
Open seams or joints
Popped or rusted nails or stains around nails
Signs of insects or critter infestation (squirrels love climbing on roofs)
Sagging or unsound areas
Rotten fascia and eaves
Inspect your sources of roof ventilation that they remain open
Inspect gutters for sagging or signs of leaks and be sure to remove any leaves or debris
Dark patches or biological growth
Check around pipes and roof penetrations to make sure they are sealed and in good shape
Look inside the attic for signs of leaks, dark spots, holes, or sagging sheathing
You may be uncomfortable with the idea of walking around on your roof or climbing a ladder to inspect your roof. If so, your best option is always to find a local roofing company. Muth and Company Roofing is a GAF factory-certified Master Elite® Contractor. Homeowners in Columbus, Ohio deserve a roof maintenance company they can trust for a professional roof inspection.
Whether you have us install a new roof or do a roof repair for you, ask Muth & Company Roofing about scheduling an annual roof checkup. Complete this form now and we'll contact you to confirm a set time. Or call us at 614-882-0900.