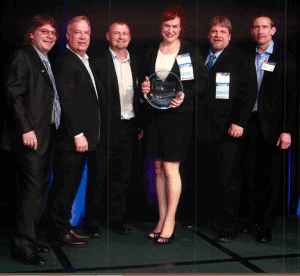 Last weekend, Chad Muth and several other members of the Muth & Company team attended the 2014 GAF Wealth Builder Conference held at Wild Dunes Resort in Isle of Palms, SC. At the conference, Muth & Company received all three 2013 GAF Master Elite™ Excellence Awards. The Excellence Awards – Training Excellence, Consumer Protection Excellence and Installation Excellence – recognize a contractor's dedication to ongoing training, quality workmanship and superior customer service. Less than 0.25% of GAF contractors nationally are Triple Excellence winners. This is the eighth consecutive year Muth & Company has received the award.
In addition, the team was honored to accept the 2013 GAF Steep Slope Master Elite President's Club Award. This prestigious award recognizes an outstanding commitment to workmanship, service and responsiveness. Less than 100 companies out of approximately 3,000 GAF Master Elite contractors in the nation received the President's Club Award for 2013.
This is the second consecutive year Muth & Company has received the President's Club Award. "When they announced our award, we got a standing ovation," says Chad Muth, president of Muth & Company Roofing. "Several of my peers and mentors came up and hugged us and said they were so proud of us and we truly deserved to earn it. It was a proud moment."
Muth & Company was also honored with a plaque and pin recognizing its induction into the coveted GAF Elite Advisor Program. This award was given to only 12 contractors in the nation based upon a demonstration of leadership and mentorship. As an Elite Advisor, the Muth team will serve as a mentor for fellow contractors around the country looking to improve their companies.
"Being part of such an exceptional group of roofing contractors and regarded as one of the best in the program was very humbling to me," says Chad. "I have always strived to be the best and have the best working with me. To have people I look up to tell me I am changing the way they do business is truly mind-blowing."
As Columbus roofing contractors, we would like to thank all our customers in Central Ohio who have contributed to our success. We appreciate your business! Whether you're a new customer or a repeat client, call Muth & Company anytime at (614) 882-0900 for a FREE estimate. We look forward to serving you.
Muth & Company Roofing is a certified Master Elite Contractor through GAF servicing Columbus, Ohio and the surrounding area including Westerville, Delaware, Worthington, Dublin, Bexley, Gahanna, New Albany, and nearby communities. Muth & Company provides roofing installation services, as well as gutter installation, gutter replacement, gutter repair, attic insulation, skylight installation, and roof repair. We're proud to offer metal roofing installation and metal roof financing services.
We use quality, feature-rich products including GAF American Harvest Shingles as well as the full GAF roofing system to deliver superior protection and warranties. If you're in need of an experienced, trusted roofing or gutter company in the Columbus, Ohio region, don't hesitate to call Muth & Company for a free estimate at (614) 682-3060 today!