There are quite a few possible causes when your roof is leaking.
Ice damming, deteriorating shingles, damaged or missing flashing, dried-out pipe boots, clogged gutters and downspouts are just a few.
Leaks in your home are never welcome or convenient. And the sight of water spreading in an ugly brown circle on your ceiling might bring you to tears. However, if you take quick action, you can minimize the damage and hopefully prevent future leaks.
Here's what to do.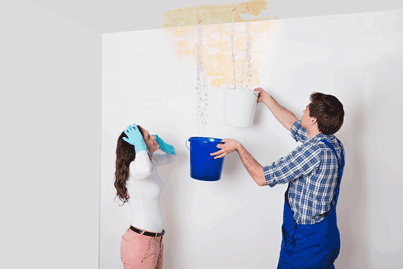 Minimize interior damage
Start by moving furniture that is threatened by a leak to an undamaged area of your home, along with electronics and any other valuables. If you cannot move these items, cover them with plastic to keep the water off. Wipe excess water from wood furniture.
Contain the water
Place buckets, plastic totes or other containers under the leak to collect dripping water. Leaking water can sometimes create a massive blister in latex paint on a ceiling. If you see that paint is bubbling, take a pin or small nail and poke a hole in the paint to release the water. If water is splashing into your bucket, try pinning a piece of string to the ceiling and let the water trickle down into the bucket.
Remove water on flooring
Clean water off hardwood flooring and remove throw rugs from carpeted areas. Vacuum up as much water as possible from carpet with a wet/dry vacuum, or contact a water damage restoration company. Make sure that flooring and carpets are thoroughly dry before starting any repairs or making replacements. A professional can replace carpet padding and clean the carpet prior to relaying it.
Contact Muth & Company Roofing 
Once you have contained the water, contact our experts to locate the source of the leak. It can be difficult to determine the exact location when your roof is leaking. Where the water is entering your home it may travel long distances down trusses and beams before leaking into the interior. We can inspect your attic as well as the roof exterior to track down the cause and recommend a solution.
Contact your insurance company
If you have significant interior damage, it may be time to contact your insurance company to determine if they cover damage due to roof leaks.
Get Help from the Pros
In addition, it is important to have your roof regularly inspected, and gutters and downspouts cleaned to prevent potential roof leaks.
Need the best roofing available in Columbus, OH, and surrounding communities? We're the roofer who wants to earn your business. Call Muth & Company Roofing today at (614) 882-0900 for a FREE estimate, or fill out our contact form. We serve Columbus, Westerville, Delaware, Worthington, Dublin, Bexley, Gahanna, New Albany and many other surrounding Central Ohio cities.
Muth & Company Roofing is a certified Master Elite Contractor through GAF servicing Columbus, Ohio and the surrounding area including Westerville, Delaware, Worthington, Dublin, Bexley, Gahanna, New Albany, and nearby communities. Muth & Company provides roofing installation services, as well as gutter installation, gutter replacement, gutter repair, attic insulation, skylight installation, and roof repair. We're proud to offer metal roofing installation and metal roof financing services.
We use quality, feature-rich products including GAF American Harvest Shingles as well as the full GAF roofing system to deliver superior protection and warranties. If you're in need of an experienced, trusted roofing or gutter company in the Columbus, Ohio region, don't hesitate to call Muth & Company for a free estimate at (614) 682-3060 today!