The roof is such an important feature of every home.
When storms roll through, people are understandably concerned about potential damage to their roofing system.
It's for this very reason that they often become the target roofing scams from unscrupulous companies that take advantage of worried homeowners. These companies may appear to be legitimate.
It's important to keep an eye out for these signs that your "roofer" may actually be the ringleader in various roofing scams.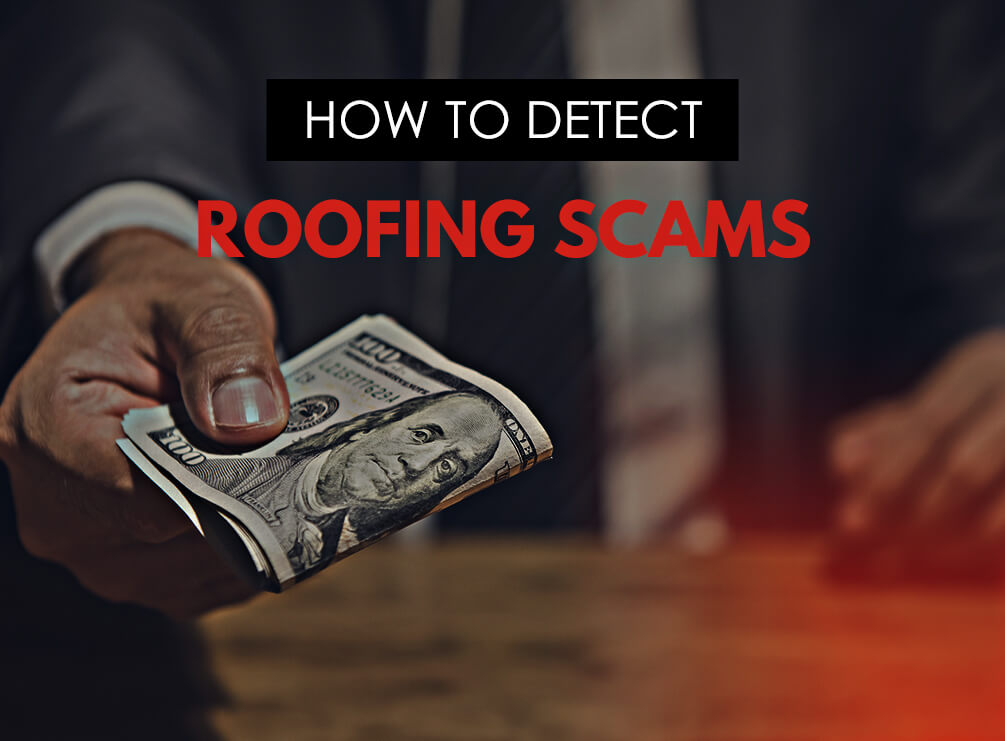 Roofing scams mostly happen immediately after a storm
When the term "storm chaser" is used in reference to roofing, it's not referring to a person who chases tornadoes. Rather it refers to roofers that show up right after a big storm.
They are looking for vulnerable victims that they can scare into buying their services. This do this by telling them that their roof is damaged. In truth, most professional roofing contractors are too busy after storms to cold call or go door-to-door searching for new clients. Be very skeptical if one shows up on your doorstep.
Leaving out the details
Scammers are out for a quick buck. Their main goal is to get cash from the homeowner as quickly as possible and then run. They are often persistent and overbearing. They push homeowners to sign contracts and provide sensitive financial information.
Scammers are also adept at avoiding questions about what is actually wrong with your roof. They often bluffing by using complicated industry jargon that they hope you won't question. Remember to always ask detailed questions about the alleged damage to your roof, as well as the repairs that they are proposing.
No evidence of the company online
Before hiring anybody to repair your roof, it's important to check up on them online. Start by looking for a website. It's very rare for a business not to have at least a basic website. So if they don't, that's a good indication that they're not legitimate.
Also check out Better Business Bureau ratings and read online reviews provided by previous customers.
Roofing scams contain low bids and charges for inspections
Most professional roofing companies are happy to provide free estimates for their potential customers. Scammers, on the other hand, often charge for this service. Or even require a downpayment before they will provide an estimate.
They also draw people in by giving estimates that are far lower than bids from other roofing companies. Then they add on extra charges later once a homeowner is locked into a contract.
Need the best roofing available in Columbus, OH, and surrounding communities? We're the roofer who wants to earn your business. Call Muth & Company Roofing today at (614) 882-0900 for a FREE estimate, or fill out our contact form. We serve Columbus, Westerville, Delaware, Worthington, Dublin, Bexley, Gahanna, New Albany and many other surrounding Central Ohio cities.
Muth & Company Roofing is a certified Master Elite Contractor through GAF servicing Columbus, Ohio and the surrounding area including Westerville, Delaware, Worthington, Dublin, Bexley, Gahanna, New Albany, and nearby communities. Muth & Company provides roofing installation services, as well as gutter installation, gutter replacement, gutter repair, attic insulation, skylight installation, and roof repair. We're proud to offer metal roofing installation and metal roof financing services.
We use quality, feature-rich products including GAF American Harvest Shingles as well as the full GAF roofing system to deliver superior protection and warranties. If you're in need of an experienced, trusted roofing or gutter company in the Columbus, Ohio region, don't hesitate to call Muth & Company for a free estimate at (614) 682-3060 today!