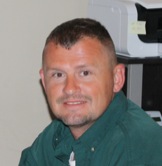 Tye Lang is a longtime employee of Muth & Company Roofing, now with decades under his belt. In fact, the only folks who have worked for the company longer are the owners, Chad and Gina Muth! As Vice President of Operations, Tye manages day-to-day company operations including coordinating with the production team, getting guys out and loaded, running jobs and keeping computer programs up-to-date. His education includes certifications by GAF Master Elite™, CPR/First Aid, OSHA, Alu-Rex and Ply Gem, and he feels his greatest strength is the ability to lead by example.
"Tye has been a huge part of Muth & Company Roofing, from designing our logo to working every aspect of the company," says president Chad Muth. "Because of his ingenuity, we were able to launch our very successful Mr. Moose's Roof Maintenance Plan as well as I-Roof, our digital estimating and invoicing system. Tye is irreplaceable as a friend and co-partner to Gina and I."
Tye enjoys the variety that comes with his job. "You meet new people every day and learn something new every day," he says. He believes Muth & Company is set apart from other Columbus roofers by a commitment to local homeowners that motivates every team member to go the extra mile. "We care strongly about our customers," he says.
Tye and his high school sweetheart, Kim, have been married since 2001 and have three kids, Jhordan, Kahleb and Payton. The family is rounded out with two dogs, a Great Dane named Zeus and a Shih Tzu named Bailey.
Tye's favorite sports team is the Cleveland Cavaliers, and his favorite place to dine out is Sushi En. It would be an understatement to say that this guy loves to fish in his spare time. Tye really loves to fish, and if he could go anywhere for a day, he would go anywhere there is water so he could – you guessed it – fish. One is his long-term goals is to fish with a pro or become one. He also enjoys playing poker and building new things with wood.
A strong work ethic has led to success for Tye Lang, and this is the one piece of advice he would give others about life. "I'm proud of how my life has turned out," he says. "If you work hard, you will be rewarded."
Thanks, Tye, for being an important part of the Muth & Company team!