The Deseret News website in its October 11, 2013 article discusses the importance of maintaining gutters. A gutter in poor shape will leave a roof vulnerable to water damage because of its inability to properly dispose of rainwater. The article touches on the importance of replacing gutters when old ones no longer serve their purpose.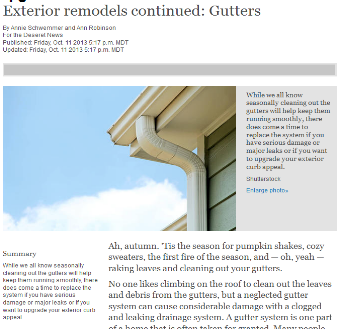 While we all know seasonally cleaning out the gutters will help keep them running smoothly, there does come a time to replace the system if you have serious damage or major leaks or if you want to upgrade your exterior curb appeal. The most common material for gutters and downspouts is aluminum; others include vinyl, copper and cast iron. Gutter sections have to be mechanically joined together and have the seams caulked to prevent leaking. As a solution to the problem of leaking joints, roofers dreamed of creating gutter sections long enough to run the entire length of a roof section without any seams. This was made possible by the invention of a portable machine that can bend metal into a continuous run of gutter to any desired length.
The most common material used for seamless gutters is aluminum, but copper can also be formed on site.
Gutters are an essential part of the roofing system, and should be maintained as often as the roof itself. Gutters, like every other component part in your roofing system, aren't immune to damage from nature's elements. When they've taken some years of beating, your roof will need repairs, or sometimes outright replacement.
Homeowners should closely monitor the condition of their roof's gutters in Columbus, Ohio and have them quickly fixed as soon as they fall into disrepair. Gutters are important in controlling the flow of storm water runoff. As soon as rainwater gets into the atmosphere, it mixes with chemicals, pollutants, and other debris, creating a withering and toxic cocktail that can damage surfaces.
Since some toxic fluid can't be absorbed by paved terrain, it can spread throughout urban regions unchecked and endanger a community's health. Gutters help channel rainwater off the property and into drainage to reduce dangerous water runoff.
Unfortunately, gutters are prone to damage, usually from the weather, or from falling branches and other debris. Even leaving gutters clogged for too long can lead to permanent damage. In cases like this, it's better to simply replace the damaged parts with new gutters from Delaware, OH contractors—Muth & Co. roofing.
(from Exteriors Remodels Continued: Gutters; Deseret News; October 11,2013)
Muth & Company Roofing is a certified Master Elite Contractor through GAF servicing Columbus, Ohio and the surrounding area including Westerville, Delaware, Worthington, Dublin, Bexley, Gahanna, New Albany, and nearby communities. Muth & Company provides roofing installation services, as well as gutter installation, gutter replacement, gutter repair, attic insulation, skylight installation, and roof repair. We're proud to offer metal roofing installation and metal roof financing services.
We use quality, feature-rich products including GAF American Harvest Shingles as well as the full GAF roofing system to deliver superior protection and warranties. If you're in need of an experienced, trusted roofing or gutter company in the Columbus, Ohio region, don't hesitate to call Muth & Company for a free estimate at (614) 682-3060 today!